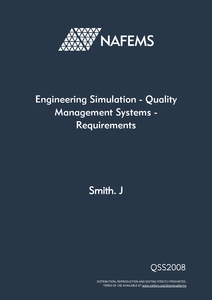 This document has been superceded by the "Engineering Simulation Quality Management Standard"
NAFEMS QSS:2008 is a quality system supplement (QSS) to ISO 9001:2008 in the particular context of engineering simulation.

ISO 9001:2008 is a quality standard which specifies generic requirements for a quality management system that can be used by organizations for certification or contractual purposes, or for uncertified internal application. It focuses on increasing the effectiveness of the organization in meeting its customer's requirements.

ISO 9001 and NAFEMS QSS together contain the basic requirements that engineering simulation organizations need to meet if they wish to demonstrate that they operate a quality management system and are able to consistently generate technically valid results.

Proper application of NAFEMS QSS will ensure that quality principles are built into the simulation process at a fundamental level, facilitating evaluation and control of quality at every stage of the simulation process and enabling engineering simulation to be consistently carried out to the required professional standards.

NAFEMS QSS can be used by internal and external parties, including certification bodies, to assess the organization's ability to meet customer, regulatory and its own requirements.

Summary of changes
This QSS:2008 is an alignment revision from ISO 9001:2000 to ISO 9001:2008 (changes between the QSS versions are detailed in QSS Annex D ).
In addition to modifying the relevant QSS clauses for alignment with ISO 9001:2008, all clauses (beginning with NAFEMS' first QSS edition from 1987) have been revisited, updated and repositioned where necessary for compatibility with ISO 9001:2008. NAFEMS' most recent definitions of verification and validation have also been incorporated in this QSS.