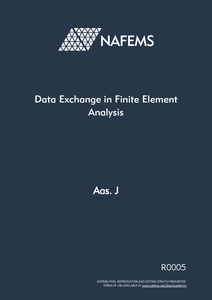 Due to the evolving nature of the engineering analysis and simulation market this publication no longer represents current best practice and has been archived. The document may be of historical interest and is therefore still available for purchase.
The exchange of data between different finite element systems is achieved to different levels of success by using product specific, product independent or standard (eg IGES, SET etc) data formats. The emerging international Standard for the exchange of product model data, called STEP, does include f.e. data and is being developed using structured data modelling techniques.
To be successful for the Finite Element community, it is crucial that the functional requirements for the Standard are well considered during the development process. This study has therefore investigated the requirements for representing information from NAFEMS benchmarks, from commercial f.e. programs, and from the real experiences of practising engineers.
This report provides both an introduction to newcomers to the subject as well as defining the functional requirements for experts. It will assist in the speedier creation of a better standard and will be used by the NAFEMS CAD/FE Integration Working Group to check 'conforms to requirements' as STEP develops.
The work was performed by J Aas of FEGS Ltd under the auspices of the NAFEMS CAD/FE Integration Working Group.