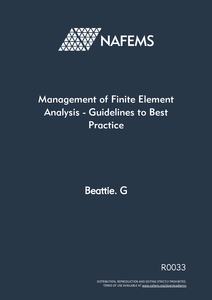 These guidelines which relate to the management of finite element analysis, are published by NAFEMS. They form one of a series of documents concerned with the practical application of the finite element method. The guidelines explain the need for, and the benefits of using, quality management systems relevant to finite element analysis. They are designed to assist those personnel responsible for the management and execution of Finite Element Analysis (FEA), and for the creation and maintenance of quality management systems for the us with FEA. They also cover material which will assist organisations seeking certification of their quality managements systems.

The above series of documents has been designed to fulfil a wide spectrum of needs. They provide educational material for the novice user, a reference source for the more experienced engineer, and provide guidelines to best practise and benchmarks for testing software and analysis methods.
In a period as short as ten years, many changes have occurred in the manner in which the finite element method is applied. The availability of low cost computing resources has ensured that finite element analysis has moved from being the preserve of specialists, to become a tool routinely used by many design engineers. Not only is the method now widely available, but the range of analyses performed and their complexity have also dramatically increased. Finite element techniques are now used to solve problems as diverse as those concerned with structural crashworthiness, biokinetics, electromagnetics and fluid dynamics. The method is now widely employed by non—specialists in the design and assessment of products and structures which impact both public safety and the profitability of large corporations. Responsible organisations which use the finite element method recognise the requirement for rigorous procedures, based upon sound principles, to govern the management of their analytical activities.
The changes described above have been accompanied by a quiet revolution in quality management. Although quality management has continued to be a central issue within many technologically orientated companies, the wide acceptance of internationally recognised quality standards is relatively recent. Sector led schemes, which interpret general international standards within the context of particular industry sectors, have further increased the relevance of these standards and are leading to their wider acceptance. Examples of sector schemes include the TickIT initiative, which is specific to the software industry and the NAFEMS Quality System Supplement which is particular to finite element analysis.
The information and guidelines contained within this document describe the development, operation, maintenance and certification of quality management systems to the internationally recognised standard of ISO 9001. The role of the sector led schemes based upon the NAFEMS Quality Systems Supplement and the TickIT Guide are discussed in the context of safe, reliable finite element analysis.


Contents
GLOSSARY AND ABBREVIATIONS

PART 1 – QUALITY MANAGEMENT
CHAPTER 1 – SOME BASIC CONCEPTS

CHAPTER 2 – QUALITY MANAGEMENT
PART 2 – GUIDELINES TO THE MANAGEMENT OF FINITE ELEMENT ANALYSIS
CHAPTER 3 – THE NAFEMS QSS

CHAPTER 4 – USE AND MAINTENANCE OF THE QMS

CHAPTER 5 – PRODUCT ANALYSIS


CHAPTER 6 – ANALYSIS PROCEDURES

CHAPTER 7 - -PERSONNEL

CHAPTER 8 – SOFTWARE

CHAPTER 9 – INDEPENDENT CERTIFICATION
REFERENCES
INDEX