This Website is not fully compatible with Internet Explorer.
For a more complete and secure browsing experience please consider using
Microsoft Edge
,
Firefox
, or
Chrome
SAFESA Management Guidelines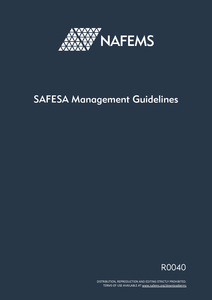 The SAFESA (SAFE Structural Analysis) Management Guidelines is one of a series of documents describing the SAFESA approach to structural qualification supported by finite element analysis. This document provides detailed information in the quality chain to recognised international standards.
The SAFESA approach is the result of a major initiative undertaken by 5 United Kingdom organisations with the support of the UK Department of Trade and Industry. The organisations comprise of:
Assessment Services Limited

Cranfield University

Lloyd's Register Engineering Services

Nuclear Electric plc

WS Atkins Science and Technology
Contents
INTRODUCTION

RESOURCES
General
Analysis approach
Computer-based tools
Professional support environment
Combination of resources
The role of test and experience
VERIFICATION, VALIDATION AND QUALIFICATION
General
Verification
Validation
Qualification and Structural Model Validation
REAL STRUCTURE, DESCRIPTION OF THE REAL STRUCTURE AND THE STRUCTURAL MODEL
General
Uncertainty and error
The real structure, description of the real structure and its contribution to the structured model
Treatment for uncertainty and error sources
The SAFESA Error Treatment Procedure
SUMMARY OF ACTIONS REQUIRED TO MEET THE SAFESA MANAGEMENT GUIDELINES
APPENDIX A

References & Bibliography
Document Details
| | |
| --- | --- |
| Reference | R0040 |
| Language | English |
| Audiences | Analyst Manager |
| Type | Publication |
| Date | 1st January 1995 |
| Region | Global |
Download
Purchase Book
| | |
| --- | --- |
| Order Ref | R0040 Book |
| Member Price | £7.50 | $9.21 | €8.75 |
| Non-member Price | £20.00 | $24.54 | €23.32 |
Purchase Download
| | |
| --- | --- |
| Order Ref | R0040 Download |
| Member Price | £7.50 | $9.21 | €8.75 |
| Non-member Price | £20.00 | $24.54 | €23.32 |
Back to Search Results