This Website is not fully compatible with Internet Explorer.
For a more complete and secure browsing experience please consider using
Microsoft Edge
,
Firefox
, or
Chrome
Report on the Vendor Challenge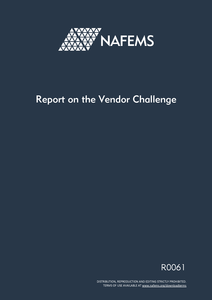 The NAFEMS CAD/FE Integration Working Group is concerned to advance the general vision CAD (Computer Aided Design) Geometry from any source may be used to create an Engineering Analysis Model of any type. Except in the most trivial cases, even data exchange between similar computer systems presents a challenge, i.e. to define clearly what data types, formats and relationships exists and to determine the rules for successful transfer. When different processes are required to cooperate, for example between CAD and FE (Finite Element), this challenge becomes significantly greater.
Hardware, software and communication technology is undergoing significant and prolonged enhancement and the responses given in this report are necessarily tied to specific versions of software and operating systems. However, the direction of development is towards increasing interoperability. Certainly from the engineer's perspective, incompatibilities between systems and sets of information are becoming increasingly unacceptable and it is clear that these capabilities will be enhanced progressively as the need to interact increases.
Contents
Introduction
STEP
Geometry
Engineering Analysis
Application Protocols
THE CHALLENGE
Content
Reference Solution
Vendors Invited
Vendor Responses
Response Summary
CONCLUSIONS
Support for STEP
Geometry Manipulation Tools
Generic Engineering Analysis
REFERENCES
ANNEX A
A.1 Details of the STEP file contents
ANNEX B
B.1 Response from MSC
B.2 Response from PTC
B.3 Response from SDRC
B.4 Response from Systus International
Document Details
| | |
| --- | --- |
| Reference | R0061 |
| Author | |
| Language | English |
| Type | Publication |
| Date | 1st January 1999 |
| Region | Global |
Download
Purchase Book
| | |
| --- | --- |
| Order Ref | R0061 Book |
| Member Price | £5.00 | $6.18 | €5.68 |
| Non-member Price | £15.00 | $18.53 | €17.02 |
Purchase Download
| | |
| --- | --- |
| Order Ref | R0061 Download |
| Member Price | £5.00 | $6.18 | €5.68 |
| Non-member Price | £15.00 | $18.53 | €17.02 |
Back to Search Results