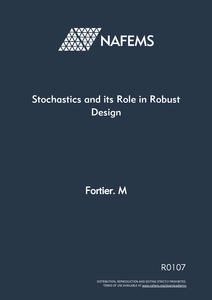 It is an executive's responsibility to make decisions that lead to successes, but there are inherent risks in decisions made daily under pressures to lower costs, increase profit margins, and accelerate innovation. While managers often dwell on changes to current and past processes, resulting in minor improvements, truly productive leaders seek to outperform their competition by reaping maximum gain from an investment of any size. This publication is intended as a guide for executives who would like to begin utilizing stochastic methods to explore the possibilities of innovative designs. These methods incorporate a math-based process devised to deliver greater understanding of how a design will work and a clearer idea of its potential for success.
The use of stochastic methods is not new to engineering design, but because of improved IT technology, it is possible to achieve a goal more quickly and with higher fidelity by using advanced statistical methods now available to anyone willing to avail himself of the opportunity. Solutions can be scaled and include one or all of the following methodologies: CAD/CAE/CAT, model based systems engineering, requirements management, process automation, and/or data management with cutting edge numerical methods and analytics. Education and training are at their peak, with over 100 universities worldwide offering advanced degrees that focus on the integration of statistics with Computer Aided Engineering for Reliability and Robust Design. Opportunities for digital and virtual training,dedicated professional conferences, nonprofit organizations, and publications such as this one are now abundantly available to educate practising engineers.
What is the profit in all this?

Quality is a well-understood advantage when seeking improved business returns. Itis a primary contributor to customers returning to the businesses. Robust Design, popularized by Genichi Taguchi during the 1980s and augmented by 21st century digital technology, can become a method to improve quality and serve as a catalyst for accelerating business returns. Stochastics allow the developer to explore larger areas of design, thereby increasing opportunities for greater innovation.Uncertainties surrounding decision-making can be reduced if variation estimates are included in digital predictions, and can assist in transformations both of subsystems and throughout a complete enterprise.
But where does one begin?

Starting is easy, although execution can be tricky and requires dedication over the long run. The first step is to become familiar with the concepts and processes outlined in "Stochastics for Robust Design." The next is to take advantage of some of the multitude of educational opportunities available--to hear success stories, get the answers to questions, and address concerns. It is important to provide middle managers, subject matter experts, and practitioners with the time and resources to formulate proposed strategies, as well as to leveraging collaborations with universities, and non-profit organizations who can benefit from your successes.Working with experts on significant case studies, rather than on insignificant problems, can increase potential benefits and enhance the existing qualities of organizational capability and knowledge that come from experience.