This Website is not fully compatible with Internet Explorer.
For a more complete and secure browsing experience please consider using
Microsoft Edge
,
Firefox
, or
Chrome
A Modelling Framework for Directed Energy Deposition Additive Manufacture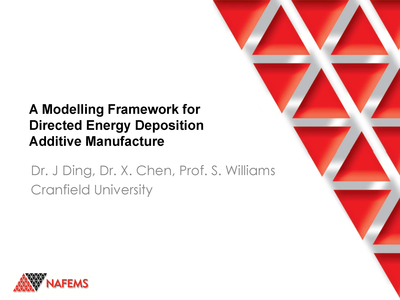 This presentation was made at the NAFEMS UK Seminar "Welding Simlation - How Much Validation is Enough?"
Resource Abstract
NEW Wire Additive Manufacturing (NEWAM) project is target of providing next generation wire based direct energy deposition additive manufacturing (DED AM) process which can provide a net shape deposition of titanium alloy with a deposition rata of 8kg/h with required properties. In order to achieve this goal, a process with multi-energy source (MES) has been developed which can provide accurate control of the size of the melt pool and melting of the feedstock independently. A modelling framework based on fluid flow modelling has been developed to assist the process development though the fundamental understanding with physical insights into process behaviour and accurate predictions of interactions between thermal fields, melt pool development and bead formation. The new model is developed with detailed wire feeding simulation which can provide accurate information of droplet transfer mode under different process conditions, and the effect on the bead formation. In addition, the challenge of printing with required properties is introduced with process modelling as one of the key elements to the proposed solution.
Document Details
| | |
| --- | --- |
| Reference | S_Feb_21_UK_8 |
| Author | Ding. J |
| Language | English |
| Type | Presentation Recording |
| Date | 10th February 2021 |
| Organisation | Cranfield University |
| Region | UK |
Download
Back to Search Results