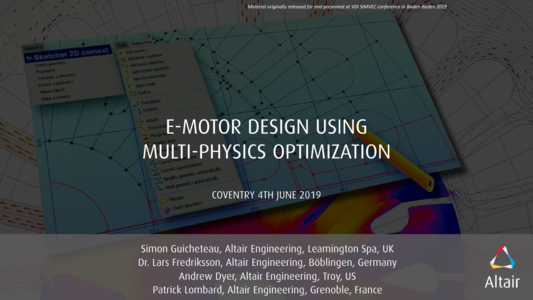 Electrification of systems previously dominated by internal combustion engines presents many challenges to the automotive, aerospace, machinery, and other industries.Disciplines affected include the following:
Noise, vibration, and harshness – e.g. noise quality (whines, etc)
Durability – e.g. motors, driveline durability impacted by electric motor torque profiles
Electric motor design - weight reduction, efficiency, E-M emission?
Thermal management – batteries, control units, motors
Battery technology – charge time, thermal, weight, crash safety, etc
Charging infrastructure

CAE already plays a major role in addressing these disciplines with traditional powerunits, and will no doubt enable engineers to identify solutions to the problems that arise with electrification. Existing CAE methods and processes will require adaption and innovation to support design, development, and manufacture in a timely and effective manner.

Resource Abstract

More integrated and holistic development strategies will be necessary in the future to better meet requirements of e-powertrain without significant sacrifices on target fulfilment. Optimization methodologies and processes offer opportunities to support such integrated development strategies.



Dr. Ing. h.c. F. Porsche AG is responding to the challenge of E-mobility by developing high performance E powertrains which will meet every Porsche standard in terms of performance, fuel efficiency, driving dynamics, and everyday practicality.



Altair is a software and consulting company with the vision to transform product design and organizational decision making by applying simulation, optimization, and high-performance computing throughout product lifecycles. Altair is leading in defining, developing, and integrating optimization-driven design process at automotive OEMs.



This presentation offers insight how the advanced drivetrain development of the Porsche AG together with Altair have approached the challenge of improving the total design balance in E-motor development. It will be shown how different physics simulation and optimization tools are combined and integrated to create a process for multi-physics E-motor optimization. Some details on coupling strategies will be discussed and It will be shown that such process has the potential to improve the total design balance compared to classical motor design methodologies.