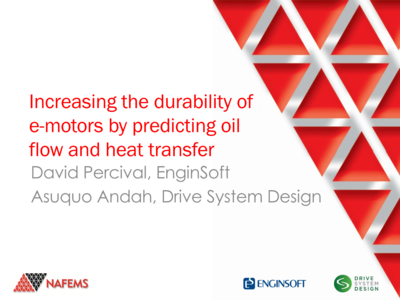 Electrification of systems previously dominated by internal combustion engines presents many challenges to the automotive, aerospace, machinery, and other industries.Disciplines affected include the following:
Noise, vibration, and harshness – e.g. noise quality (whines, etc)
Durability – e.g. motors, driveline durability impacted by electric motor torque profiles
Electric motor design - weight reduction, efficiency, E-M emission?
Thermal management – batteries, control units, motors
Battery technology – charge time, thermal, weight, crash safety, etc
Charging infrastructure

CAE already plays a major role in addressing these disciplines with traditional powerunits, and will no doubt enable engineers to identify solutions to the problems that arise with electrification. Existing CAE methods and processes will require adaption and innovation to support design, development, and manufacture in a timely and effective manner.

Resource Abstract

A race has already begun between major OEMs to accelerate the production of Electric Vehicles. In an integrated powertrain, the shared cooling and lubrication strategy for the transmission and e-motor requires a deep understanding of both the oil flow and of the thermal effects.



Physical testing limits innovation: prototypes are expensive and can struggle to reproduce the most extreme operating conditions. The number of test configurations are also limited compared to simulation. However, fast analytical methods used to analyse heat transfer in a high power density e-motor can provide low fidelity results, or in the case of traditional CFD, extensive computation time can slow down the design process at the concept stage.



As a response, an innovation in mesh-less particle-based CFD has produced the Moving Particle Simulation (MPS) Method to address this type of problem. This allows oil flow and heat transfer to be predicted in an oil-cooled e-motor and transmission. The method's ability to improve e-motor design is explored in the presentation and will introduce cases where the new approach has empowered engineers early in the design. It will highlight the method's ability to rapidly simulate the interaction between rotating parts, the housing and the oil and thus predict the oil distribution and cooling effect to vital parts of the transmission and e-motor.



A significant reduction in development time and increased performance is demonstrated and will reveal how this approach can help engineers overcome the challenges that arise from designing an e-motor.