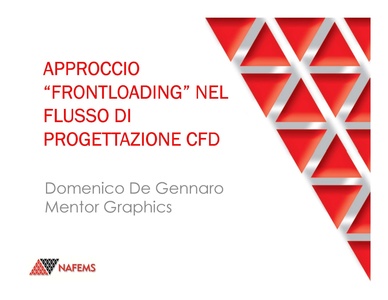 Presentation made by D. D. Gennaroat the NAFEMS Italia Seminar "La Fluido-Dinamica Computazionale Nella Simulazione ingegneristica" held in Torino, Italy on the 16th of March 2016.

Seminario Descrizione
La CFD (fluido-dinamica computazionale) e ampiamente usata in ingegneria come strumento di analisi e progettazione.

Oggi, le simulazioni CFD supportano la progettazione di una vasta gamma di componenti in ambito, per esempio, automotive, aerospaziale, chimico e nelle industrie produttrici di energia, dove la CFD ha dimostrato di ridurre in modo significativo i costi per la progettazione e sviluppo dei prodotti e la tempistica per l'immissione sul mercato.

Con i notevoli passi avanti per quanto riguarda l'hardware ed il software dei computer, la CFD e sempre piu usata in applicazioni multidisciplinari per simulare sistemi con fisica complessa. Questo conduce a nuove sfide nella simulazione CFD, tali da garantire l'affidabilita delle previsioni CFD sulle quali si basano importanti decisioni, e adeguati metodi di validazione e processi ingegneristici devono essere usati.