The Path to Simulation Democratization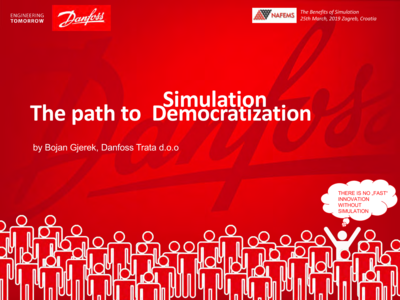 In Danfoss District Energy (DEN), systematic use of simulation and design optimization in new product development and technology projects is essential for increasing speed and agility in the innovation process. It is well known that in the typical workflow of new product development the highest impact by using simulations is achieved in the early stage of the design cycle, where the ability of design changes is high, and the corresponding cost is low.
In the past, these simulations were performed mainly by the simulation analyst, where the engineers focused only on the design. Having, for example, a ratio of five design engineers on one analyst, the second one can often represent a bottleneck along much higher fixed costs for the company. To take advantage of the higher number of designers with the goal to maximize the impact of simulations a new strategy towards Democratization of simulations was implemented to make them accessible and usable by a much broader audience in a way that supports how they get their work done. The strategy must involve the right tools and their vendors as well as the analyst know-how behind it with the needed shift in mindset to successfully advance it. Taking the steps, starting with democratization of CEA tools along designers by implementing the frontloading CFD approach, continue with development of dedicated simulation apps for designers, lab testers, product managers and sales people and finally going towards the Virtual Application Development Centre representing a simulation driven development and sales tool for our product portfolio and corresponding applications.
Regardless the fact that in the future simulations will be accessible more and more to the broader audience through simulation apps, the simulation analyst will still play an essential role, being the primary driver of knowledge and app development when going along the path to simulation democratization.