This Website is not fully compatible with Internet Explorer.
For a more complete and secure browsing experience please consider using
Microsoft Edge
,
Firefox
, or
Chrome
Some of the Challenges in Adopting Simulation-Driven Innovation and How to Overcome Them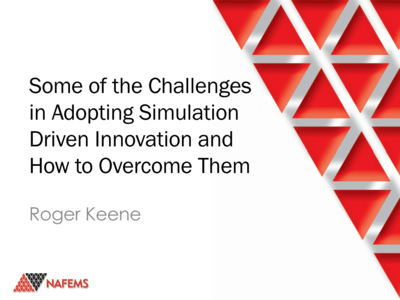 The use of simulation has grown significantly over the years, but has largely been used for the verification of products and designs. As the demands for new, innovative products continue to increase, businesses need to adopt new approaches to allow more designs to be considered far faster and to identify radical new design options. Greater use of simulation driving innovation within the design process is one way to address this need. This idea is not new and there have been many attempts in the past two decades to provide simulation tools to the designer with relatively little success. There are a number of significant challenges that make designer simulation particularly difficult, including: • Expertise • Ease of use • Integration within the design process • Large computational needs This presentation looks at these challenges and ways that they might be overcome.
Document Details
| | |
| --- | --- |
| Reference | S_Mar_19_EE_6 |
| Author | Keene. R |
| Language | English |
| Audience | Manager |
| Type | Presentation |
| Date | 25th March 2019 |
| Organisation | Consultant (Roger Keene) |
| Region | Eastern Europe |
Download
Back to Search Results