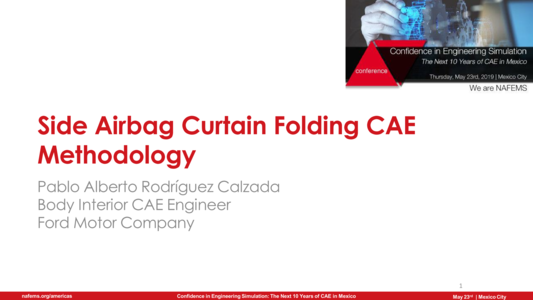 This presentation was made at the NAFEMS Americas Seminar - Confidence in Engineering Simulation: The Next 10 Years of CAE in Mexico.

What is the future for engineering analysis and simulation in Mexico? Discover innovative engineering simulation processes and tools which are helping companies in Mexico improve production capabilities. Engage with domain experts, industry leaders, and peers in a focused, comprehensive one-day event that covers topics on engineering analysis, simulation, and systems modeling and simulation that every engineer in Mexico should know.

Resource Abstract

Over the last few years, CAE simulations have been substantially improved as a result of the growing need to achieve full vehicle developments in a shorter time span while also attending the demand of cost reduction in such developments. One of the most critical components regarding the passive safety features of a vehicle is the Side Airbag Curtain. The need arises to involve this crucial component in an agile product development process. Consequently, when the validation using numerical methods of such component is performed, a full deployment of the airbag is needed to be evaluated and analyzed, having as a key objective the monitoring of its dynamic behavior caused by the effect of interacting with nearby components. In view of the foregoing, the folding process of the airbag plays a key factor in its whole operation.



This study describes a methodology to fold a Side Airbag Curtain by means of a simulation-based routine, which can be defined on commercial CAE pre-processors currently available for the industry. This work aims to englobe the tools and steps followed in order to obtain, within a short period of time, a CAE model of the airbag, capable of representing efficiently and accurately a deployment, which might be used for analyses such as Interior Trim integrity and safe interaction.



Using this CAE methodology, a new scope of problem solving techniques opens up. Applying the novel approach described in the preceding paragraph, a folding scenario could be useful to control the dynamics of the airbag in order to achieve a faster deployment in a certain zone, to avoid an undesired interaction with the interior trim of the vehicle, or to simply evaluate the aperture time of the system overall. All this adds up to a feasible cost reduction alternative to the most common techniques that involve modifying and adapting geometries including supplementary components, that impact directly in the prime cost of a vehicle.