How to Make The Most Of Your Analysis and Simulation Applications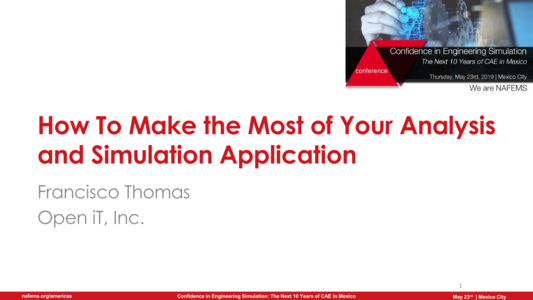 This presentation was made at the NAFEMS Americas Seminar - Confidence in Engineering Simulation: The Next 10 Years of CAE in Mexico.

What is the future for engineering analysis and simulation in Mexico? Discover innovative engineering simulation processes and tools which are helping companies in Mexico improve production capabilities. Engage with domain experts, industry leaders, and peers in a focused, comprehensive one-day event that covers topics on engineering analysis, simulation, and systems modeling and simulation that every engineer in Mexico should know.

Resource Abstract

The engineering industry has advanced with the use of analysis and simulation software. Engineering companies can optimize the entire design, prototype, test and production of bringing a new product to market with these software applications.



Access to the latest and most innovative software tools is sometimes difficult due to the overwhelming costs of these packages. In today's session, we will not focus on optimizing designs but more specifically, optimizing the software licenses to enable: reduced software costs, identifying unused software to free up budget to be spent on new apps and features, understanding cost allocation by actual usage by department or project and understanding usage for vendor negotiations.



The best way to achieve optimization of your expensive licenses is through usage metering tools. Software usage tools measure how much and how often applications are used and allow managers to quickly and easily analyze true needs. Some usage metering tools also go further by not only providing historical data but by simulating various types of agreements and scenarios to help managers make more informed decisions.



This presentation will provide real engineering customer data, report examples as well as case studies where usage metering saved significant money.



Business and IT Managers are applying usage data to optimize their resources and save their companies real dollars while creating a competitive edge. Whether you're managing analysis or other simulation applications, usage metering allows you to provide the right software to the right person at the right time thereby optimizing your costs.
Document Details
| | |
| --- | --- |
| Reference | S_May_19_Americas_16 |
| Author | Thomas. F |
| Language | English |
| Type | Presentation |
| Date | 8th November 2018 |
| Organisation | Open iT, Inc. |
| Region | Americas |
Download
Back to Search Results