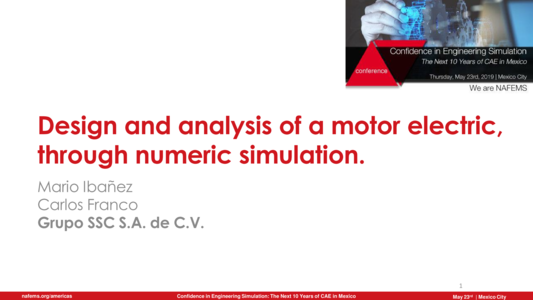 This presentation was made at the NAFEMS Americas Seminar - Confidence in Engineering Simulation: The Next 10 Years of CAE in Mexico.

What is the future for engineering analysis and simulation in Mexico? Discover innovative engineering simulation processes and tools which are helping companies in Mexico improve production capabilities. Engage with domain experts, industry leaders, and peers in a focused, comprehensive one-day event that covers topics on engineering analysis, simulation, and systems modeling and simulation that every engineer in Mexico should know.

Resource Abstract

DC motors have endless applications on mechatronic systems, their electrical characteristics make them the best option for these applications especially if we compare them with other motors such as alternate current motors, servomotors, step motors, etcetera.



The applications for DC motors are very diverse and can be found in robotics, biomedics or the automobile industry. In the automobile industry a lot of technology regarding the use of DC motors has been developed, some examples are the windshield cleaners, gasoline pumps, water deposit pumps and the most significant example is the DC motor used for the traction of the car.



As it is well known, each year fabricants from all the different automobile companies are constantly improving their designs, from the structure to the electrical, mechanic and electronic components.



DC motors that are used in the integration of automobiles, as well as all the other components that are used in a car, are constantly being modified in order to improve their efficiency. There are several techniques that are used in order to achieve the maximum efficiency. Sometimes with their experience DC motors fabricants are capable of satisfying the needs demanded for the creation of new vehicles.



However, there is an additional possibility that can allow us to raise the quality. In this work an alternative for building DC motors that can be used in vehicles applications will be shown. This will be through numeric simulation and the finite element method.



This technique consists on the virtual creation of a DC motor which is used for the gas pump of an automobile. This will be made considering all of its physic, mechanic and electric variables.The Ansys software as well as Multiphysics studies will be used in order to achieve this purpose.



Physic test will be applied on the model in work conditions. The development of the motor will be shown through Multiphysics and structural mechanics studies; fluids dynamics and electrical studies will be applied as well. All of this will be made with the purpose of knowing the operation and efficiency of the product, before it is manufactured.