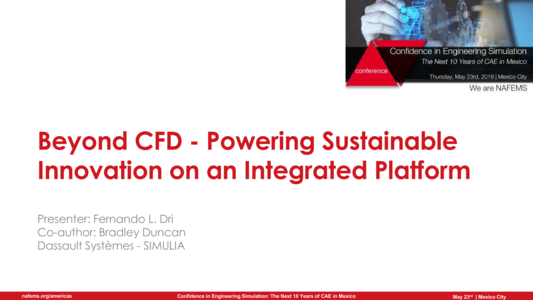 This presentation was made at the NAFEMS Americas Seminar - Confidence in Engineering Simulation: The Next 10 Years of CAE in Mexico.

What is the future for engineering analysis and simulation in Mexico? Discover innovative engineering simulation processes and tools which are helping companies in Mexico improve production capabilities. Engage with domain experts, industry leaders, and peers in a focused, comprehensive one-day event that covers topics on engineering analysis, simulation, and systems modeling and simulation that every engineer in Mexico should know.

Resource Abstract

For years, wind tunnels have been the main tool to assess vehicle aerodynamic performance.



As regulations, competition and model proliferation push the limits of vehicle design; Computational Fluid Dynamics (CFD) has gained considerable traction as an alternative method to experimental measurements.



CFD is more than just a virtual wind tunnel. The use of simulation allows for conceptual investigation at early stages of the design process. Different design alternatives can be studied and compared without the need for complex prototypes. This translates into significant saving of costs and time.



Realistic simulations allow for greater insights beyond what is possible with traditional experiments. CFD provides a complete picture of the flow field. This enables engineers not only to understand what is happening, but also why it is happening.



In this presentation, the author demonstrates the design, analysis and optimization of a car rear wing using the integrated environment provided by the 3DEXPERIENCE Platform.



The objective of this work is to obtain the most efficient geometric configuration; maximizing the downforce produced by the rear wing while minimizing the generated drag.



In order to carry out this study, it has been necessary to create a fully parametrized rear wing geometry that could be used to explore the design space. A set of 28 independent parameters were used to define the shape of the rear wing (e.g. span, chord, angle of attack).



A steady-state, incompressible fluid flow analysis was employed along with a K-Omega-SST turbulence model to compute the downforce and drag forces for each of the geometrical configurations.



The model setup (mesh, properties, boundary conditions) was fully automated based on an initial template defined by the author.



A Design of Experiments (DOE) was performed using the Optimal Latin-Hypercube sampling technique. The DOE allowed us to explore the design space and obtain a response surface to optimize the final shape of the rear wing.



The seamless integration between design, analysis and automation allowed us to perform the described workflow on its entirety using the 3DEXPERIENCE Platform.