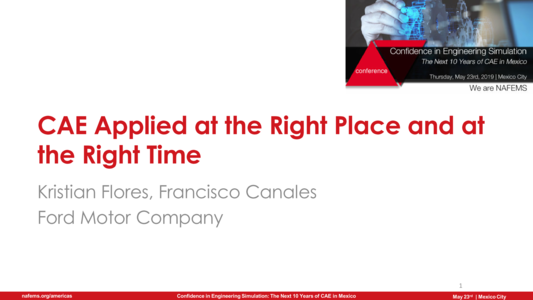 This presentation was made at the NAFEMS Americas Seminar - Confidence in Engineering Simulation: The Next 10 Years of CAE in Mexico.

What is the future for engineering analysis and simulation in Mexico? Discover innovative engineering simulation processes and tools which are helping companies in Mexico improve production capabilities. Engage with domain experts, industry leaders, and peers in a focused, comprehensive one-day event that covers topics on engineering analysis, simulation, and systems modeling and simulation that every engineer in Mexico should know.

Resource Abstract

Nowadays, in a product development process throughout the automotive industry has become common to see CAE applications during all phases of the design process, and this discipline is enabling, since its introduction, to design products in a faster, cheaper and optimized ways, with improved performance. In addition, new tools in the market are allowing to optimize the components to a level we have never seen, taking into account multi objective functions in an automated way. However, we are missing an important piece of the puzzle, the CAD required by a CAE engineer to conduct the necessary assessments to the component. Although it is known that some software suites have some capabilities to connect CAD and CAE to speed up the optimization and iterative processes, the truth is that are not yet at the required level. Normally the first CAD intent of the design has no useful data to guide the systems interaction between components, besides static and dynamic clearances. Here is when the following question comes up, what if CAD and CAE rather than being considered as services areas to support the development of components, are considered as protagonists, acting at the right place and at the right moment of the design process?



Designing vehicles is a very complicated affair. Consequently, this presentation is intended to show a proposed optimization process that takes advantage of available CAE capabilities embedded in CAD tools, cross-functional collaboration between CAD designers/engineers, CAE engineers and D&R engineers. It starts by using CAD software with embedded CAE Wizards to start giving guidance to CAD designers from day one then translating this information directly to CAE, in order to optimize the design by means of structural optimization that will enhance component's performance at system level. This process exemplify its application in powertrain mounts design. The reason to use these type of components is to show an example of this process' the functionality and capabilities in a very complex component, that needs to satisfy several attributes and requirements, such as, NVH or durability. This process allows the possibility to achieve these requirements since initial design stages if all the actors have useful technical information to make decision at the right place and at the right moment.