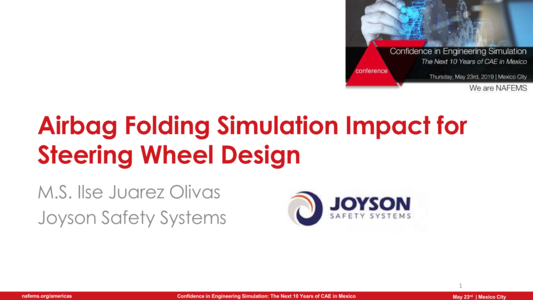 This presentation was made at the NAFEMS Americas Seminar - Confidence in Engineering Simulation: The Next 10 Years of CAE in Mexico.

What is the future for engineering analysis and simulation in Mexico? Discover innovative engineering simulation processes and tools which are helping companies in Mexico improve production capabilities. Engage with domain experts, industry leaders, and peers in a focused, comprehensive one-day event that covers topics on engineering analysis, simulation, and systems modeling and simulation that every engineer in Mexico should know.

Resource Abstract

Driver airbags and steering wheel components are an important part of passenger automotive safety. Their design is usually physically tested; however, predictability of airbag simulations is becoming an important tool in the design process of safety components for the automotive industry. Evaluation of the correct deployment of the airbag is part pf the design process by testing the structural integrity of the steering wheel components.



During the deployment, the airbag interacts with the components and they are subjected to high speed forces, making it important to maintain their structural integrity. At the cost of physical tests, using Finite Element Analysis (FEA) for the assessment of interaction of the airbag and steering wheel components has become an important tool in the design process.



Several approaches have improved the simulations of airbag deployments, such as using the airbag particle method, in addition, folding of the airbag mesh also impacts the interaction between the airbag and other components as it begins to unfold.



Currently, crunching of the airbag mesh is used for simulating deployments and analyzing components of the steering wheels. This method sometimes provides intersections within the mesh of the airbag. Avoiding intersections within the airbag mesh after it has been folded is critical for correct airbag deployment during simulation. Therefore, following the physical steps of the airbag folding is crucial for a more precise correlation between a physical test and the simulation, consequently being able to predict behavior of several components after changing their design.



This report summarizes the procedure followed for folding a driver airbag using Sim-Folder/ Pam-Crash according to the design team steps, and its effects on the proper correlation of the tests and design improvement implementations. Comparison between deployment of the crunched airbag and properly folded airbag are presented.