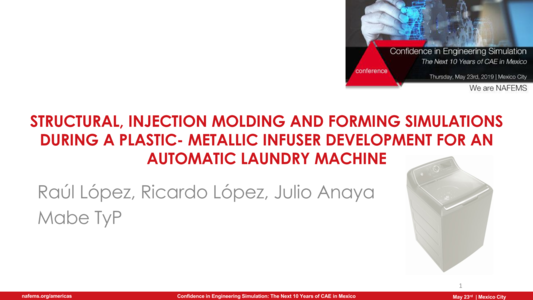 This presentation was made at the NAFEMS Americas Seminar - Confidence in Engineering Simulation: The Next 10 Years of CAE in Mexico.

What is the future for engineering analysis and simulation in Mexico? Discover innovative engineering simulation processes and tools which are helping companies in Mexico improve production capabilities. Engage with domain experts, industry leaders, and peers in a focused, comprehensive one-day event that covers topics on engineering analysis, simulation, and systems modeling and simulation that every engineer in Mexico should know.

Resource Abstract

This work deals with the iterative process between structural and manufacturing simulations needed to achieve a detailed design concept that meets the functions and requirements of a component used in a washer machine. Company internal design process is described and, therefore, injection moulding simulations, metal-forming simulations and structural simulations are described too as part of said design process.



The component that provides mechanical action to the laundry in a washer machine is named infuser. A new infuser is required for a new laundry machine platform; this component is an assembly of two parts, a plastic part that is the mean body, and a metallic part that acts as a mask for the plastic mean body, this assembly has appearance, performance, structural and manufacturability functions.



Plastic mean body is a polypropylene homopolymer part, its principal function is to provide stiffness to the complete assembly, by the other hand, the metallic mask is manufactured with stainless steel and its mean function is provide a good appearance inside the basket of the washer machine, finally as an assembly, both components must provide washability performance to the appliance.



The challenge of this development was to find the geometries that could move the laundry to be washed, could resist the loads generated during the wash cycle, could be injected and that could be formed, all this at the same time, because of this, finite element analyses were carried out and several iterations were needed.



The first objective achieved was the structural performance of the plastic mean body, stress and deflection criterion were reached, then, forming simulations were performed over the metallic mask until no wrinkles were presented and thickness reduction criteria was reached, Finally injection simulation were carried out and the warpage criteria were achieved too.



Additionally, looking for confident results on the simulations, mechanical and rheological characterization for metal and plastic materials respectively were carried out.



After satisfactory results, final design concept was achieve and drawings were released for tooling manufacturing. Then, at facilities, infuser components were fabricated and assembled in washer machine prototypes. Finally, a set of reliability and performance test were completed without failures.



As a conclusion, in early development stages, structural and manufacturing simulations allowed a quick and effective process for design concept iteration, additionally experimental work is important, material characterization and the finite element model correlation with the real process provides to the team with major certainty at the time of design concept release.