Analysis and Simulation of the Forging Process of an AISI 4340 Cast Ingot to Reduce Internal Defects and Energy Resources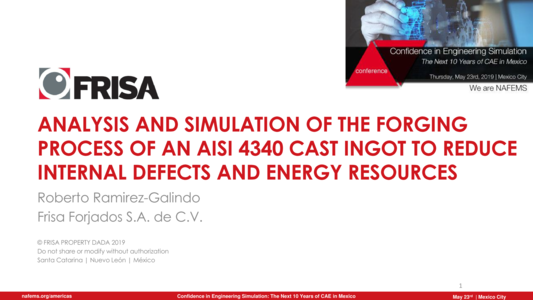 This presentation was made at the NAFEMS Americas Seminar - Confidence in Engineering Simulation: The Next 10 Years of CAE in Mexico.

What is the future for engineering analysis and simulation in Mexico? Discover innovative engineering simulation processes and tools which are helping companies in Mexico improve production capabilities. Engage with domain experts, industry leaders, and peers in a focused, comprehensive one-day event that covers topics on engineering analysis, simulation, and systems modeling and simulation that every engineer in Mexico should know.

Resource Abstract

The use of simulation in material forming processes can represent a substantial saving in scrap material and failed experiments. Having prior knowledge of the result of the process parameters can help reduce the number of physical experiments and have a better understanding of the relation of all these factors. With the combination of both simulation and experimental data, a model can be created to predict the behaviour of future processes accelerating the testing and validation phases of the developments. This advantage becomes noteworthy when dealing with large parts and expensive processes as the open die forging. Minimizing internal defects of cast ingots by giving the necessary amount of work during deformation is the main task in this kind of forging. In order to remain a competitive option for our clients, an optimization of the resources becomes of crucial importance when it comes to eliminating those defects with the least amount of energy possible. For this paper, a simulation of the open die forging process was performed using the software Forge Nxt 2.0® by Transvalor. The model was recreated based on an actual fabricated squared bar, from which data such as porosity, die forces and thermocouple information was obtained and used to validate the initial results. The Niyama criterion was used to measure the reduction of porosity and was calibrated with the available experimental data for this alloy. In addition to this, true strain and damage were monitored to observe their relation with the porosity. Once the real process was accurately represented, both the die penetration depth and the initial temperature profile of the ingot were varied to optimize the effort required to meet the porosity criteria and the best forging strategy was defined. Next steps include simulation of the casting process of the ingot, with experimental data from our steel mill facility, to have a more accurate input data and to track the defect to its origin.
Document Details
| | |
| --- | --- |
| Reference | S_May_19_Americas_7 |
| Author | Ramírez-Galindo. R |
| Language | English |
| Type | Presentation |
| Date | 8th November 2018 |
| Organisation | Frisa Forjados S.A. de C.V. |
| Region | Americas |
Download
Back to Search Results