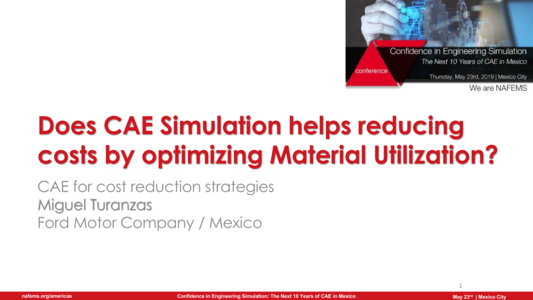 This presentation was made at the NAFEMS Americas Seminar - Confidence in Engineering Simulation: The Next 10 Years of CAE in Mexico.

What is the future for engineering analysis and simulation in Mexico? Discover innovative engineering simulation processes and tools which are helping companies in Mexico improve production capabilities. Engage with domain experts, industry leaders, and peers in a focused, comprehensive one-day event that covers topics on engineering analysis, simulation, and systems modeling and simulation that every engineer in Mexico should know.

Resource Abstract

Nowadays, in a very competitive market, costs are becoming a critical part of the equation to survive in the actual environment and for the next 10 years, in which we will be living lot of changes and potential closing of several companies.



Around 8 years ago, Ford Motor Company has developed an area that uses CAE simulation for reducing material utilization on a vehicle, specifically for sheet metal parts. The main responsibility of the area is cost reduction in four fields: product and tooling design, process planning and cost estimating.



All of the above have something in common – optimization. From predicting the best feasible process, passing through part's design improvements and simple tooling development reaching to the cost estimation itself, where all takes a fundamental role in early stages of a program by avoiding late design and process changes.



In Ford of Mexico, from nearly 5 years ago, many global platforms run through this optimization process, where all starts from a data entry that is inspected and entered on an FTI's automated software (Forming Suite) that will return several process options for each part included in the BIW of a vehicle.



With the simulation, material utilization engineers are able to look for opportunities to reduce raw material used to produce a part, such as:



• Looking at control points on the layout to make changes accordingly.



• Placing the part in an optimal way through the stamping process.



• Simulate and suggest an amount of addendum.



Then the MU engineer select and shares the best feasible option on a report, which shows all the part's information and process values needed to communicate with other areas and suppliers. By doing this, Ford will externally share with the manufacturing plants how a sheet metal part should optimally be stamped and, in the other hand, will internally realize if a part's design is good enough to reduce waste, increase manufacturing efficiency and be viable in terms of cost.



As a conclusion, using CAE tools has helped Ford to reduce costs globally and one key point in the future will be to shorten response time, market needs will increase and customers will look for new products quicker than ever, asking for fresh designs and not the same old ones. This could be done by simplifying the process and automating sub processes, as Ford has been doing as a continuous improvement strategy. Additionally, for the upcoming years, the challenge will be the fully automation of the process, based on historical data and part's geometry description to throw, as a first pick, a best feasible scenario for stamping processes that includes all fields mentioned previously, from design and manufacturing perspectives.