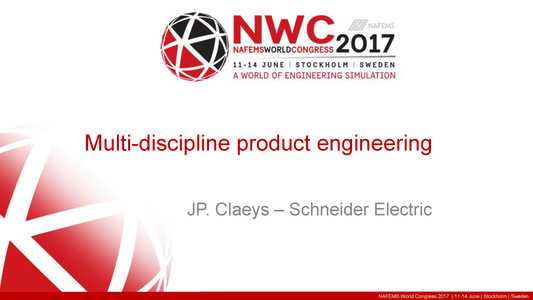 This presentation was made at the NAFEMS French Seminar "Process and Simulation Data Management" held in Paris on the 23 November 2017

Simulation benefits from the development of multidisciplinary methods while being stimulated by the growing needs of the industry. The recent advent of IoT (Internet of Things), for example, will further strengthen the multi-physical approach and coupled with always the requirement of reducing costs, risks and deadlines.

In addition, the exploitation of big data analytics generates new models that can cooperate with conventional tools. Innovative applications appear as for example digital twins in preventive maintenance. It is the entire industrial process, from system modeling to manufacturing processes that is enriched and for which we have to manage the trilogy "raw data", "information" and "knowledge", the ultimate support of a renewed design. These entities, each with its specificity of acquisition, processing and evolution, in a dynamic context, require a cooperation of tools that the company must implement gradually under the term SPDM (1).

After having dealt with the " Challenges of the SDM (2)" (NAFEMS France 12/2012), this SPDM seminar proposes a state of the art academic, software and services of these techniques, in addition to the feedback of the first applications in this domain.

What does the SPDM ask for? What is the impact of the complexity of the models, industrial or research? Levels of requirement in capitalization, traceability, reuse? Which tools to choose? Solutions for interdisciplinary collaboration?