Smarter Testing Through Simulation for Efficient Design and Attainment of Regulatory Compliance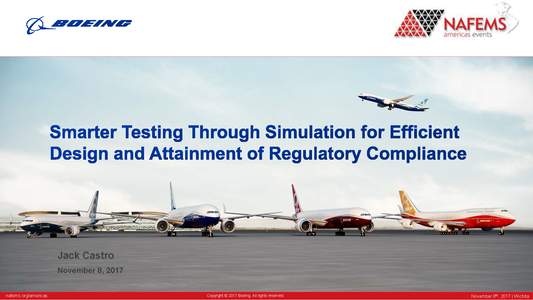 This presentation was made at the NAFEMS Americas Seminar "Aerospace Simulation Engineering: The Big Issues" held in Wichita, KS on the 8th of November. 
Aerospace manufacturers and suppliers are facing an increasingly challenging and competitive marketplace as their products are becoming more complex via tighter integration of systems and cyber-physical environments. The current industry demands that engineers design safe and reliable aircraft, meet increasingly stringent fuel-economy standards, invent cost-effective approaches for exploiting new fabrication techniques such as additive manufacturing and use of cutting-edge design-for-purpose materials. Utilizing the latest engineering simulation tools effectively, accurately and efficiently to meet business goals has never been more critical, as aerospace engineering continues to move into a highly-advanced technological space. 
NAFEMS Americas and NIAR co-hosted a one-day event to facilitate awareness and a deeper discussion into how the following "Big Issues" identified by NAFEMS can address these challenges:
Simulation Governance

Democratization

Certification by Simulation

Systems Simulation

SDM Implementation

Manufacturing Process Simulation

HPC Deployment

Simulation & Additive Manufacturing
Document Details
| | |
| --- | --- |
| Reference | S_Nov_17_USA_3 |
| Author | Castro. J |
| Language | English |
| Audiences | Manager Analyst |
| Type | Presentation |
| Date | 8th November 2017 |
| Organisation | The Boeing Company |
| Region | Americas |
Download
Back to Search Results