Implementing the Digital Thread for Modeling, Simulation & Test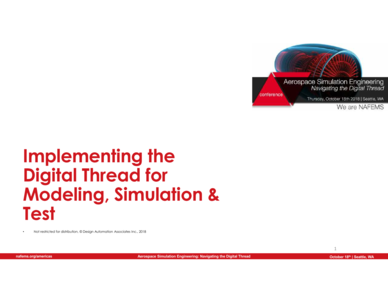 This presentation was made at NAFEMS Americas 2018 Seminar, "Aerospace Simulation Engineering - Navigating the Digital Thread".


Aerospace manufacturers and suppliers are facing an increasingly challenging and competitive marketplace as their products are becoming more complex via tighter integration of systems and cyber-physical environments. That being said, there are rising interests to incorporate Digital Threads as communication frameworks for sharing product lifecycle information seamlessly and Digital Twin methodologies for assessing virtually the expected and future operational physics-based capabilities of a product throughout its lifecycle. Utilizing these techniques in conjunction with the latest engineering simulation tools effectively, accurately and efficiently to meet business goals has never been more critical, as aerospace engineering continues to move into a highly-advanced technological space.

ABSTRACT

For the aerospace industry to completely embrace and implement digital processes, and as the commercial foot print of the aerospace industry expands beyond the traditional airliner to space exploration, it's imperative that disconnected test and simulation processes/data be organized, linked and traceable. Manual and unstructured coordination and organization of details is overly burdensome and inefficient.

The ATC Catalyst (Automated Test Correlation) is a unique solution that drives information, accountability and automation into the testing and simulation processes. It does this by organizing and connecting test and simulation data to enterprise and organizational level automated workflows within a PLM system. This significantly improves test and simulation organizational back-and-forth communication, execution and efficiency as well as maximizes test and simulation investment by inserting traceable data into the digital thread so that it can be leveraged by the enterprise.

DAA will present an ATC example using the MARS Rover Battery pack to demonstrate the concept and cost savings to specific aero manufacturers. We will show an embedded PLM digital workflow that exemplifies how we ensure that all steps in the testing and verification process are completed with a high-level of visibility to the current program status. Inside of the workflow, the Mars Rover Battery Pack AS-designed requirements are used to develop a digital 3D CAE twin model. The CAD 3D modeling attributes, thru simulation can accurately provide placement coordinates for sensors for the test engineer.
Document Details
| | |
| --- | --- |
| Reference | S_Oct_18_Americas_12 |
| Author | Sullivan. S |
| Language | English |
| Type | Presentation |
| Date | 18th October 2018 |
| Organisation | Design Automation Associates |
| Region | Americas |
Download
Back to Search Results