Requirements of Certification by Analysis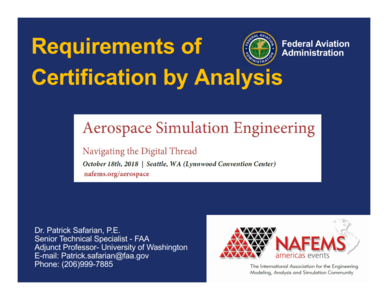 This presentation was made at NAFEMS Americas 2018 Seminar, "Aerospace Simulation Engineering - Navigating the Digital Thread".


Aerospace manufacturers and suppliers are facing an increasingly challenging and competitive marketplace as their products are becoming more complex via tighter integration of systems and cyber-physical environments. That being said, there are rising interests to incorporate Digital Threads as communication frameworks for sharing product lifecycle information seamlessly and Digital Twin methodologies for assessing virtually the expected and future operational physics-based capabilities of a product throughout its lifecycle. Utilizing these techniques in conjunction with the latest engineering simulation tools effectively, accurately and efficiently to meet business goals has never been more critical, as aerospace engineering continues to move into a highly-advanced technological space.

ABSTRACT

Recent advancements in the field of numerical analysis enable engineers to solve complex problems using finite element analysis. These advancements aid in the investigation of responses of physical problems to their environment in a way that was not possible in the past. Using these tools, the engineering communities would like to depend more extensively on analytical approaches to investigate the subjects of their studies, where testing was traditionally used for that purpose. There is also a desire to replace certification tests by test-validated FEM. In each case, the reliability of these numerical solutions are a major concern. Certain regulatory requirements allow analytical approaches to be used for compliance purposes as an option to testing. In all cases these regulations require validation of the analysis before the results can be accepted. The current presentation identifies the federal aviation regulations that allow analysis as a means of compliance for the structural problems and provides acceptable means of validation of this analysis. This presentation provides a brief introduction to finite element analysis as an analytical tool with steps and recommendations for building a compliant numerical model. Examples of most recent advancements in the field of numerical methods in the aerospace industry are presented and discussed.
Document Details
| | |
| --- | --- |
| Reference | S_Oct_18_Americas_13 |
| Author | Safarian. P |
| Language | English |
| Type | Presentation |
| Date | 18th October 2018 |
| Organisation | Advanced Aviation Enterprises |
| Region | Americas |
Download
Back to Search Results