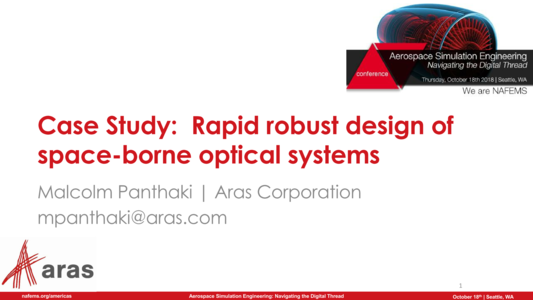 This presentation was made at NAFEMS Americas 2018 Seminar, "Aerospace Simulation Engineering - Navigating the Digital Thread".


Aerospace manufacturers and suppliers are facing an increasingly challenging and competitive marketplace as their products are becoming more complex via tighter integration of systems and cyber-physical environments. That being said, there are rising interests to incorporate Digital Threads as communication frameworks for sharing product lifecycle information seamlessly and Digital Twin methodologies for assessing virtually the expected and future operational physics-based capabilities of a product throughout its lifecycle. Utilizing these techniques in conjunction with the latest engineering simulation tools effectively, accurately and efficiently to meet business goals has never been more critical, as aerospace engineering continues to move into a highly-advanced technological space.

ABSTRACT

Analyzing the Structural Thermal Optical Performance (STOP) of space-borne optical systems is a complex, multidisciplinary, manual process that is prone to human error. Given the zero-gravity, harsh environment of space, not easily duplicated on earth, simulation-driven what-if trade studies of these satellite systems is crucial to ensuring that the launched systems work correctly the first time failures are expensive and usually not correctable in space.

Is the use of intelligent templates essential to automating such complex simulation processes? If so, how can these templates be made robust across an entire family of products that share a common functional architecture? We will illustrate a graphical workspace that uses an underlying comprehensive engineering product data model to facilitate the rapid creation, reuse and execution of intelligent simulation automation templates.

We will review how optical system design teams at the Aerospace Corp. and NASA have used the Comet Simulation Automation Workspace to rapidly perform STOP analyses, including parametric, what-if trade studies of their system designs. The presentation will compare the efficiency and robustness of this automated process compared to the prior manual process.