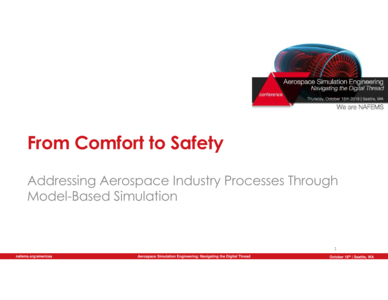 This presentation was made at NAFEMS Americas 2018 Seminar, "Aerospace Simulation Engineering - Navigating the Digital Thread".


Aerospace manufacturers and suppliers are facing an increasingly challenging and competitive marketplace as their products are becoming more complex via tighter integration of systems and cyber-physical environments. That being said, there are rising interests to incorporate Digital Threads as communication frameworks for sharing product lifecycle information seamlessly and Digital Twin methodologies for assessing virtually the expected and future operational physics-based capabilities of a product throughout its lifecycle. Utilizing these techniques in conjunction with the latest engineering simulation tools effectively, accurately and efficiently to meet business goals has never been more critical, as aerospace engineering continues to move into a highly-advanced technological space.

ABSTRACT

The aerospace industry is experiencing an industry revolution, with a move towards personalized air travel. There are over 70 companies working to make air taxi vehicles a reality, through a variety of design approaches.

Personalized air travel has many feasibility barriers, which can be addressed through model-based simulation within the Digital Thread. Many of the feasibility barriers for personal air taxis are technical challenges for the traditional aerospace industry as well. Rapid innovation is required to overcome these challenges, for personalized air travel to become a reality.

The key feasibility barriers for personalized air travel are as follows: vehicle performance, certification, aircraft noise, vehicle efficiency, cost and affordability, and safety. In this presentation, we will demonstrate how simulation can help to address these challenges.

CFD has already had a significant impact on aerodynamic performance over the last 30 years, by helping to reduce drag and make planes more efficient. However, the use of CFD has been generally limited to the center of the flight envelope, or cruise conditions. This presentation will focus instead on our ability to dramatically expand the use of CFD by enabling a digital exploration of the entire flight envelope.

Noise targets for new aircraft developments will get significantly tougher in the next decade, due to tougher certification targets, airport regulations and community demands. We now have the capabilities to predict aircraft noise with a high degree of accuracy, moving the industry towards digital noise certification.

Functional generative design tools for light-weighting incorporate both simulation and design within the Digital Thread. These tools are changing the paradigm from simply checking if a design meets the requirements, to using optimization to find the design that best meets the requirements.

Increased use of composites to improve vehicle efficiency, cost, and affordability has led to an increase in the amount of simulation required for composite structures. Composite design and simulation capabilities integrated within the Digital Thread help to streamline composite modelling iterations.

Finally, static and transient electromagnetic simulations can be used to design communication systems and help ensure that communications and flight control systems remain operational during lightning strike. These capabilities help to address various safety concerns in the aerospace industry.