This Website is not fully compatible with Internet Explorer.
For a more complete and secure browsing experience please consider using
Microsoft Edge
,
Firefox
, or
Chrome
Altair SimSolid 2022.1 - Verification Problems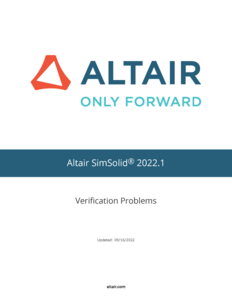 One of the earliest goals of NAFEMS was to develop a set of 'Benchmarks' against which analysis codes could be tested. Today many major vendors routinely use these benchmarks to demonstrate the accuracy of their code.
This verification manual has been provided by Altair Engineering and show the NAFEMS benchmarks which are used as part of the software code quality assurance process.
The manual is assocaited with the SimSolid 2022.1 code.
NAFEMS Members can access the verification manual using the "NAFEMS Members Download" button opposite.
Document Details
| | |
| --- | --- |
| Reference | simsolid-20221 |
| Author | Altair Engineering |
| Language | English |
| Type | Manual |
| Date | 26th September 2022 |
| Organisation | Altair Engineering |
Download
Back to Search Results