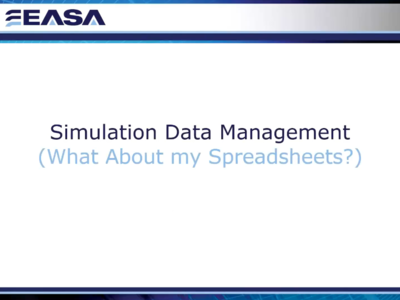 The NAFEMS Simulation Data Management Working Group (SDMWG) regularly invites solution providers to their meetings to describe their Simulation Data Management solutions.

Presenters are asked to bias their presentation to a technical audience of simulation experts and ensure that the content is focused on the technical aspects of the solution offering. When possible, reference customers should be identified.

This resource is a vendor presentation and subsequent Q&A from a presentation delivered by working group member Sebastian Dewhurst and Tim Valachovic of EASA
Presentation Overview
Simulation Data Management is usually thought of in the context of managing the data derived from CAE models such as FEA and CFD. This is not surprising, given that the vendors that provide SDM capabilities are attempting to add value to their existing analysis tools.However, a 2018 survey by NAFEMS revealed that Excel is used extensively as a preliminary design tool, and that there is a trend indicating the usage of Excel is increasing. While the subject of sharing spreadsheets securely has been discussed earlier, this talk will focus on a new capability from EASA that enables easy capture and sharing of users' data from spreadsheet models.

This approach essentially achieves SDM for spreadsheet models, and can be integrated with third party platforms such as SDM systems available from Dassault, Siemens, and others.
Get Involved
If you are interested in presenting your company's solutions to the SDMWG please contact sdmwg@nafems.org.

If you would like to get involved with the SDMWG or be kept informed about future SDMWG activities and meetings please use the form available here.