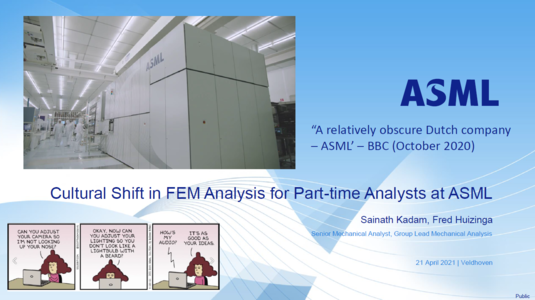 In this webinar Sainath Kadam shares his personal experience starting as a Mechanical Designer at ASML. Sainath now working as a Senior FEM Analyst at ASML, shares the company's changing mindset from analysis for design verification to now analysis led design for many of its modules. He attempts to highlight how his Mechanical Analysis department and company at large have supported this transition by having in place training and competence building measures, IT infrastructure and most importantly the cooperation and communication within the analysis community at ASML.
Summary
'Part-time FEM Analysts' or 'Mechanical Designers' as they are known within ASML have an unenviable task of not only having to focus on their designs, but also have to participate in the release, integration and sometimes even escalations for their deliverables. This wide range of responsibilities means that their exposure to FEM Analysis is fleeting and cyclic in nature. During the feasibility study phase, FEM takes up anywhere between 20-30% of their work time. As requirements are refined and designs move into the concepts phase, Full-time Analysts join these projects as support. Now the involvement for the Designers in FEM reduces to about 10%.
During the final design phase, a Designer's focus shifts to manufacturability and documentation and FEM is supported completely by the Full-time Analyst. This cyclic nature of performing FEM analysis for the designer makes it hard for them to stay on top of their FEM-game. Projects have a long life cycle of 2-3 years which means that designers would delve into extensive analysis only 1-2 times during that period, whereas FEM tools are being developed with much shorter life-cycles with answer, more robust and more efficient release every 6 months.
There is clearly a knowledge gap that develops for the Designer. Keeping knowledge up-to-date for these Designers (Part-time Analysts) is a challenge that ASML together with NAFEMS tried to solve. Adding to that the complexities of working remotely during the COVID pandemic meant that ASML had to adapt their Way of Working to support their Part-time Analysts and FEM Analysis at large.
About the Presenter
Sainath Kadam is a Mechanical Engineer working at ASML in The Netherlands. He is currently working as a Senior Mechanical Analyst, analysing the seismic worthiness of their latest EUV photolithography equipment. He holds engineering Master's degrees in Solid and Fluid Mechanics from Delft University of Technology and in Mechanical Design from Pune University in India. He is also an MBA from Rotterdam School of Management and works in technology development within the Mechanical Analysis group. Besides currently working in the semiconductor equipment sector, his career spans over a decade having previous worked in the power generation sector for companies like GE and Cummins.