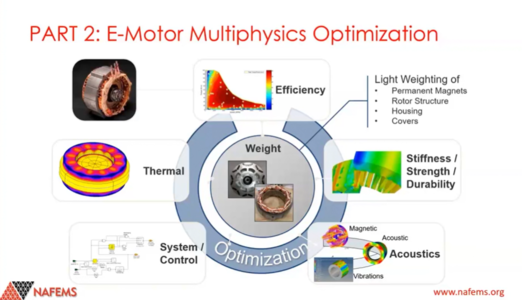 Multiphysics Community Event
Details
The electrification of functions in transportation is bringing new challenges to the design of electric machines. Often high-speed for compactness and controlled by PWM techniques, electric machines have to minimize energy consumptions over driving cycles, are facing high mechanical stresses in rotors and have to be cooled to sustain high power densities. To face these challenges, new technologies and topologies have to be found.
Simulation and optimization tools are evolving to help provide innovative solutions. Electromagnetic simulation is at the heart of the modelling process, but other constraints such as thermal effects, vibrations, structural stress, acoustics, and overall system requirements must also be taken into account.
As time-to-market is a key for success, the tools have to offer a streamlined optimization process, allowing the design space to be searched widely and efficiently, helping motor designers to meet all kinds of multiphysics constraints.
In this webinar, such a process will be presented, coupling various solvers (electromagnetic, mechanical, thermal) leading to an optimized design from a multiphysics perspective.
About this event
The Multiphysics Community allows members to engage with experts on the NAFEMS Multiphysics Working Group. No significant knowledge or expertise is required to participate. The only requirement is a desire to learn more and interact with other engineers and scientists who have an interest in Multiphysics analysis and simulation. More information can be found on the Multiphysics Community webpage.
Click here to join the NAFEMS Multiphysics community (login required) to receive information on upcoming Multiphysics Community events.
The Presenters
Jean-Baptiste Mouillet is the Multiphysics Solutions Director at Altair. He has been working for 20 years on Radioss for multiphysics, defense applications, fluid-structure interactions, and composites. He is an expert in collaboration with customers from defense, aeronautic and automotive industries. Jean-Baptiste is very familiar with projects involving the coupling of multiple physical solutions and developing methods to properly and efficiently account several physical phenomena simultaneously.
Since 2017, he has overseen multiphysics solver solutions at Altair. He has been working on electric motor multiphysics optimization involving thermal, NVH, structural and electromagnetic phenomenon, fluid structure interactions and high frequency.