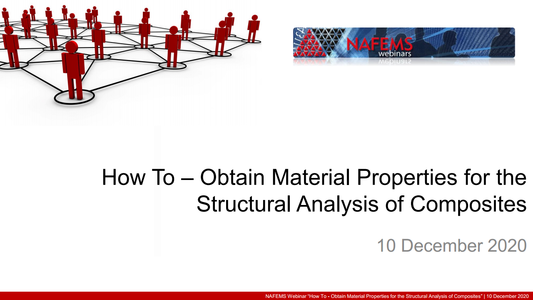 Abstract
The material behavior of composites is different than more traditional materials such as plastics and metals due to their anisotropic nature and combination of distinct materials. This can pose some challenges for the engineer designing and analyzing composite structures. The webinar covers the highlights of a new publication titled "How to Obtain Material Properties for Structural Analysis of Composites" authored by Dr. Robert Yancey. The publication covers composite material types, common modeling methods, test standards, and sources of material data. It then goes through examples of how one would obtain the material property data and use it in an analysis. In this webinar Dr. Yancey presents an overview of the publication and answers questions from the participants.
The Member Playback button will take you to the event recording. The event slides are also available for viewing.
About our speakers
Dr. Robert Yancey has filled numerous roles in his career including research, technology development, sales​, management, business development, and executive roles. He currently leads business development for Hexcel in the Americas which includes advanced materials, manufacturing, and engineered products. He has a technical background in composite materials, composite mechanics and micromechanics, design optimization, additive manufacturing, finite element modeling, and nondestructive evaluation. He holds a B.S. degree in Aeronautics and Astronautics from MIT, an M.S. degree in Engineering Mechanics from Virginia Tech, and a Ph.D. in Materials Engineering from the University of Dayton. He is an AIAA Associate Technical Fellow and Composites Factory of the Future Technologies Lead for SAMPE.
Dr. Kim Parnell is a Stanford PhD and MSME in Mechanical Engineering, holds a BES from Georgia Tech, and is also a Registered Professional Mechanical Engineer in California. He is an ASME Fellow and an IEEE Senior Member. Dr. Parnell is a member of ASM International (the Materials Information Society) and SAE (Society of Automotive Engineers). He has over 30 years of consulting experience including design, finite element analysis (FEA), simulation, and failure/reliability issues covering a wide range of aerospace structures, pressure vessels, tanks, connections, and systems. He is often called on to apply his expertise as a Consulting Expert for failure analysis, quality assurance, and reliability issues. Dr. Parnell is an expert in the application of finite element analysis (FEA) for the solution of complex, real-world problems in aerospace and other industries. Dr. Parnell is active in the design, application, and failure of advanced structures utilizing composite materials and is Vice-Chair of the NAFEMS Composites Working Group.
Dr. Ronald Krueger currently holds the position of a Research Fellow at the National Institute of Aerospace (NIA). Dr. Krueger is involved in the development of durability and damage tolerance analyses for composite structures using finite element analysis and fracture mechanics. Dr. Krueger is an accomplished presenter and awarded author of 80 technical papers published in refereed journals and international conference proceedings. Dr. Krueger is an Associate Fellow of the American Institute for Aeronautics and Astronautics (AIAA) and a member of ASTM International Committee D-30 on Composite Materials where he currently serves as the chairman of the committee. He is also an active member of the American Society for Composites (ASC) and The Composites Materials Handbook (CMH-17) where he currently serves as co-chair for the Disbonding and Delamination Task Group. He also chairs the NAFEMS Composites Working Group.
Dr. Charles (Chuck) Roche received his PhD in Applied Mechanics from the University of Connecticut in 1994. Dr. Roche is now full-time in academia at Western New England University with an emphasis in solid mechanics courses. In his prior tenure, he worked at Pratt & Whitney for 28 years in structural analysis and testing. He also consulted for companies like United Technologies Research Center, General Electric, SatCon Technologies, and others. His last position at Pratt & Whitney was as the structures integration manager overseeing 19,000 engines in the commercial fleet. He has seven patents related to composites and materials.