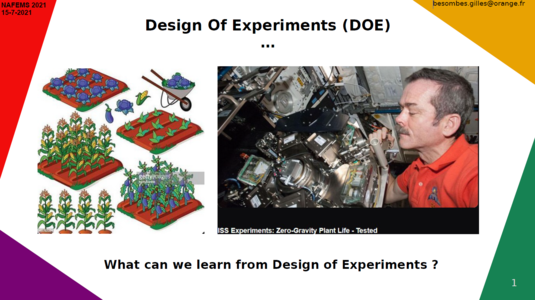 Design of Experiments (DOE) is one of the methods used to investigate profitably data collected from physical or numerical experiments. Whatever the context of application, industrial R&D, agriculture or system setup, this method brings some benefits which concern all communities in touch with:
Understanding reality,
predicting some behaviours,
focusing on relevant data,
improving a system,
capitalizing and sharing knowledge,
reducing the cost of investigations and might also reconcile with statistics.
In this webinar we take a stroll through these generic goals, in order to raise awareness of the potential benefits of Design of Experiments .
About the Presenter
Gilles Besombes, Ex-Valeo Thermal System - R&D. After several student and professional adventures in France and Canada in engineering, 33 years were spent at Valeo, as technical and scientific IT coordinator for the Group in charge of Calculation, Modules and components in the Interior Thermal Branch. The last years have been dedicated to national and European collaborative projects as well as to training oriented towards digital experiments in an industrial environment.