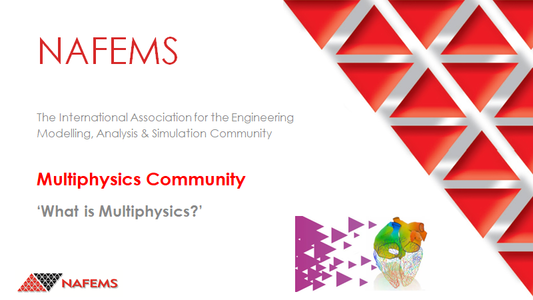 So, what is multiphysics? Why do we need it? How do we use it, and what are the challenges? This NAFEMS Multiphysics Working Group webinar "What is Multiphysics" discusses these issues and more. An experienced panel looks at how we define the term 'multiphysics', as well as examining other aspects related to multidisciplinary and multiscale topics.

This webinar is an excellent bite-size introduction to multiphysics, and a useful refresher for those with more experience in the area, or those who want to get more involved with the topic within NAFEMS and their career.
The NAFEMS Multiphysics Community
The Multiphysics Community allows the NAFEMS membership to engage with experts on the NAFEMS Multiphysics Working Group. The Multiphysics Working Group community is only accessible to NAFEMS members and no significant knowledge or expertise is required to participate. The only requirement is a desire to learn more and interact with other engineers and scientists who have an interest in Multiphysics analysis and simulation. More information can be found on the Multiphysics Community webpage.
If you are a member of NAFEMS and you would like to join the Multiphysics Community, please use the button below to submit your details (login required) to receive information on upcoming Multiphysics Community events.
Join the Multiphysics Community