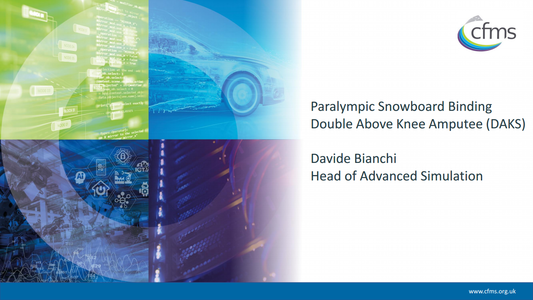 Darren Swift (Swifty), in partnership with CFMS, is aiming to revolutionise para-snowboarding by enabling other double above the knee (DAK) amputees to compete against each other, rather than more able-bodied para-athletes. A former British Army soldier, who lost both his legs above the knee in a bomb explosion in Northern Ireland, he hopes to qualify for the 2022 Winter Paralympic Games in China.

In September 2019, Swifty successfully tested the world's first 3D-printed snowboard bindings; 50% lighter, absorption of shock, complete adjustability and rotation, and a reduction in design and manufacturing time to market and cost.

In this presentation, Davide Bianchi, Head of Advanced Simulation will present the key engineering and technical aspects of the process undertaken to develop, test and manufacture the bindings;

-Designing with a complete lack of information on the requirements -The ability to adapt to a new type of manufacturing technology where specific design rules (Design for AM) are combined with traditional analysis techniques using external factors (loading, environment, ergonomics of a disabled athlete) which are unknown and generated using processes adapted from other disciplines, or created ad hoc.

-Cutting edge digital technologies- Only virtual testing was conducted and no failure was identified after extensive usage on the first test day. A completely new product concept has been digitally produced with little to no prototyping, highly replicable in engineering and manufacturing where the need to reduce design and test costs are paramount.

-The choice of technology for manufacturing - driven by the increased design freedom and possibility to iterate on the design without additional manufacturing set-up costs.

-Bringing together virtual design and Additive Manufacturing (AM) - the concept of integrating digital design and manufacturing, working together to accelerate product development, and achieve competitiveness in the global marketplace.