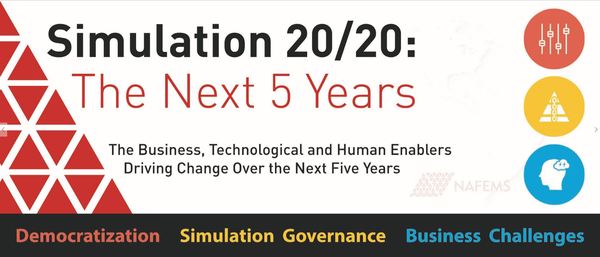 The webinar recording can be viewed by clicking this link. The password can be obtained via the member download button.
Overview
As companies drive towards virtual product development and complete digital descriptions of their products and manufacturing systems, simulation becomes increasingly important. A company's actual capability to do simulation well, so it is repeatable, reliable, and robust, can become an important factor in quality, cost and time to market, and overall competitiveness. However, research shows that many companies are failing to achieve an effective (optimum) return on their investment in and commitment to simulation.
In this opinion piece, Dr. Keith Meintjes of CIMdata—an internationally recognized authority on Product Lifecycle Management (PLM), proposes that simulation can be demonstrably superior to hardware-based test and development in a number of aspects.
In this webinar, we discuss best practices for managing simulation for maximum effectiveness and sustainable success. The key issue, where many companies fail, is to develop confidence in their own capability. This is not simply a technology issue, but one of organization and culture. Despite performing significant levels of virtual performance simulation, many companies do not trust simulation enough to make critical product design decisions because they do not close the loop to calibrate and validate simulation so as to measure or confirm their own capability. We will also describe strategies for companies to improve their capability and confidence in their digital or virtual engineering processes.
This webinar aims to introduce the topic of Simulation Governance, which will be followed by three related webinars, as outlined here.
For additional information, or to register for other webinars in this webinar series, please visit "Simulation 20/20: The Next Five Years".
Agenda
Welcome & Introduction
Mr. Andrew Wood, NAFEMS
Simulation Governance: Managing Simulation as a Strategic Capability
Dr. Keith Meintjes , Practice Manager, Simulation & Analysis, CIMdata
Q & A Session
Close
---