What is the future for Computer Aided Engineering (CAE)?
Where is engineering analysis and simulation going?
Where should it be going, and how will we all help get it there?
What are the business, technological, and human enablers that will carry the past successful developments, applications, and business impact of CAE to higher levels during the next decade and beyond?


NAFEMS, the independent association for the engineering analysis community, is holding  its
2015 India Regional Conference
, with the primary aim of helping attendees answer these questions. The 2015 India Conference will explore the extent to which the potential of CAE has been realised, and, more importantly, what more there is to be achieved.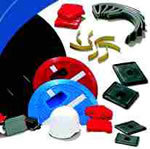 This two-day conference will focus on existing best practices as well as state-of-the-art in FEA, CFD and associated technologies –ensuring delegates receive a fully comprehensive overview of the technology available to them.
The conference will increase awareness and provide a discussion forum for topics that are vital to engineering industrialists and academics, offering attendees an unrivalled combination of industrial knowledge, expertise and forward-thinking to aid their deployment of CAE over the next few years.


Topics Covered
Structural Analysis
Linear and Nonlinear Analysis

Joints, Connections & Welding

Contact Point Stress Analysis

Durability, Fatigue & Fracture

Thermal Structural Analysis

Computational Fluid Dynamics
Turbulence

Conjugate Heat Transfer

Multiphase and Phase Change

Acoustics

Mesh Solutions & Mesh Adaption  

Dynamics & Testing
Crash & Seismic Simulation

Linear  and Non-linear Dynamics

Combining Physical & Virtual Testing

Impact and Drop test  

Multi-body Simulation
MBS, FE, and the Co-simulation of Both 

Analysis Management
Quality Assurance

Measures of Agreement

Automation of Analysis

Virtual Testing in a Regulatory Environment

Materials
Materials Characterization

Plastics

Elastomers/Polymers

Parameter Identification

Material Data

Nanomaterials  

Composites
Layer Optimization

Draping

Composite Manufacture and Assembly

Simulating As-Built and In-Service Conditions

Multi-scale, Multi-fidelity Modeling

Damage and Failure Criteria      

Multiphysics
Coupled simulation

Fluid-structure Interaction

Structure acoustics

Vibro-acoustics

Thermo-mechanical

Multi-physics,multi-scale, multi-fidelity

Benchmarking and validation of multiphysics

Optimisation
Topology ,Shapes, sizing

Structural & Fluid

Multidisciplinary/ multiphysics/ multiobjectives

Design/process integration
Exhibition
The parallel exhibition will feature a select number of organizations whose technology and products continue to help drive development in Engineering analysis, modeling and simulation.


Workshops
The following Workshops will be conducted as preconference sessions:
Workshop on Practical aspects of FEM – Validation & Verification Methods

Workshop on Practical aspects of CFD

Workshop on Fatigue and Fracture

Workshop on Shock & Vibration

Workshop on Composite Design Analysis

Research Problems Funding opportunities & publication using CAD / FEM / CFD



Conference Registration Fees
Industry / R&D Lab / PSUs / Public & Private Organisations
INR 8000
Faculty /NAFEMS Members
INR 4000
Students (Fulltime / Regular)
INR 2000
International
USD 600 
(DD should be in favor of NAFEMS CONFERENCE payable at Bangalore and send the DD to the following address)
R&D Centre,
NAFEMS INDIA
Cambridge Institute of Technology Campus
K R Puram, Bangalore -560 036


For Registrations please contact Dr. K. Elangovan
+91- 9491865337