Keynote
Speaker
Dr. V. Anand Sankaran, Executive Technical Leader & Chief Engineer of Energy Storage & HV Systems in the Electrified Powertrain Engineering Organization

Title
Case for Electrification and Opportunities – Role of CAE
Abstract
The world is changing and electrified vehicles are key to addressing consumer needs and societal issues. The automotive industry is going through a significant technology upgrade in the powertrain space to meet these demands and global regulations. Electrification is also viewed as a key platform for autonomous and smart mobility solutions. Various projections indicate that electrification will reach a tipping point in the 2025 to 2030 timeframe. Due to low fuel prices, xEV penetration has been stagnant over the last few years. However, xEV adoption rates are expected to increase as barriers come down. This presentation will highlight CAE opportunities in a systems engineering context to help reduce cost while improving the customer experience.
---
Biography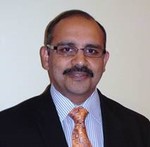 V. Anand Sankaran is the Executive Technical Leader & Chief Engineer of Energy Storage & HV Systems in the Electrified Powertrain Engineering Organization. His primary responsibilities include Electrification Technologies, namely, energy storage system, e-drive system, motors, inverters, converters, and high voltage electrical distribution systems.
He received his B.S. in Electrical Engineering from P.S.G. College of Technology, India, followed by M.S. and Ph.D. degrees in Electrical Engineering from University of South Carolina, Columbia. He also received an MBA from University of Michigan, Ann Arbor. He began his career as a Power Electronics Technical Specialist at Ford Research and Innovation Center in 1991. He then moved to product development and led the successful implementation of these new technologies in production programs, namely, "Escape Hybrid - the most fuel efficient SUV on the planet," "Fusion Hybrid - the most fuel efficient mid-size sedan in North America," Lincoln MKZ Hybrid, CMax Hybrid & Energi, Fusion Energi, and Focus Electric. He was named by Automotive News as one of the top 100 most influential leaders in electrification in 2011.
He has held various management positions in the electrification efforts at Ford Motor Company over the past several years.