Welcome to the NAFEMS Learning Hub!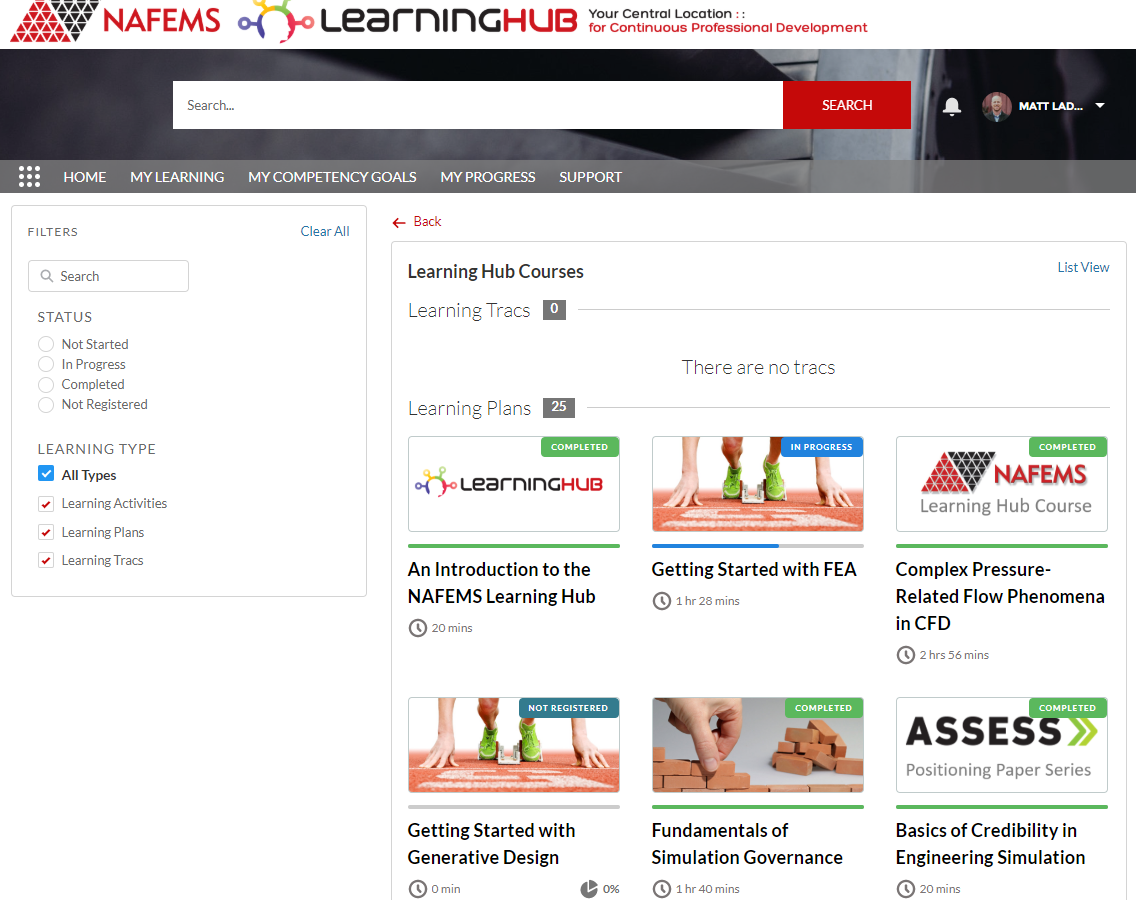 As the only worldwide independent association dedicated to serving tens of thousands of individuals working with engineering modeling, analysis & simulation, NAFEMS wanted to provide its members with a clear path for professional development. The NAFEMS :: Learning Hub aims to deliver guided learning using the resources developed, collected, and categorized by NAFEMS over the years.
We started this effort in 2019, and we will continue to add content to the NAFEMS :: Learning Hub due to the overwhelmingly positive feedback and usage of this platform.
As a NAFEMS member, you will have access to over 20 hours of free instructional material, which range from quick learning (<30 minutes) courses aimed at explaining key concepts to detailed learning (~3 hours). The good news is that several more courses are in the works and we are always working to add content.
Current Course Library:
Extended Courses:
Complex Pressure-Related Flow Phenomena in CFD (2h59m)
FEM vs. Numerical Simulation: Fundamentals of Simulation Governance (1h55m)
Getting Started with FEA (5h30m)
Getting Started with Generative Design (In Development)
Sheet Metal Formability - Material Properties, Failure, and Simulation (4h42m)

Technical Resources / Quick Courses:
Basics of Credibility in Engineering Simulation (20m)
Basics of Business Challenges in Engineering Simulation (33m)
Basics of Generative Design (33m)
Basics of Engineering Simulation Digital Twins (22m)
Basics of Integration of Systems and Detailed Sub-Systems Simulations (20m)
Basics of Democratization of Engineering Simulation (DoES) (25m)
Basics Of Aligning Commercial, Government And Research Engineering Simulation Efforts (29m)
What is the Functional Mock-up Interface? (10m)
What is Implicit and Explicit Finite Element Simulation? (16m)
What are Particle and Meshless Methods? (7m)
What is a Probabilistic or Stochastic Analysis? (12m)
What is Sensitivity Analysis? (6m)
What is Simulation Data Management? (16m)
What is Simulation Governance & Management (18m)
What is SQEP? (12m)
What is Systems Modeling & Simulation? (35m)
What is Uncertainty Quantification (UQ)? (20m)
What is Verification & Validation? (9m)
How Does it Work?
To access the Learning Hub, simply login to NAFEMS.org and then visit the My NAFEMS section of the website to create your Learning Hub account.
What Does it Look Like?
Click to expand the images below.
Course Listing

Course Outline (Collapsed)

Course Outline (Expanded)

 

Course Contents (Text/Images)

 

 

Course Contents (Video)

 

Course Quiz