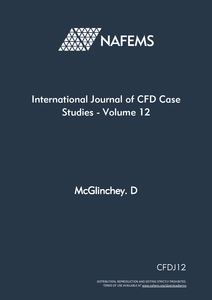 This issue of the International Journal of CFD Case Studies consists of six outstanding case studies across a wide range of application areas and utilising different simulation methodologies, including an investigation of pressure fluctuations in railway tunnels, fluid-structure interaction of a tidal device and the application of Lattice-Boltzmann to engine performance.
Contents
Pressure Fluctuations in Railway Tunnels

J. Rodríguez, L. Lacoma and J. Martí

5

A Study of Aerothermal Loads in the Presence of Edney Type IV Interaction

L. Gurov and A. Ivanov

21

Fluid-Structure Interation of a Rigid Wing for Minesto Deep Green, a Tidal Energy Device

D. Hung and A. Mosquera

35

Numerical and Experimental Stability Analysis Predicting Natural Laminar Flow Extension on a Realistic Swept Wing

D. de Rosa, R. S. Donelli and D. G. Romano

49

Design and Verification of Tuned Liquid Column Dampers for High-rise Buildings Using CFD

F. Campos, E. de Villiers and S. Cammelli

65

CFD analysis of a check valve from SAFRAN Helicopter Engines using a Lattice-Boltzmann solution

Z. Abiza, D. Holman, D. Taieb, M. Robin

79
Further Details
Each of these case studies has been reviewed by members of the CFD working group to ensure that the paper includes:
A full description of the industrial relevance of the case study and why it has been performed;
A full description of related experimental or analytical data, together with statements as to their quality and accuracy;
A description of the CFD model which allows the interested reader to fully appreciate how it simulates the given industrial case;
The CFD model is detailed covering the flow physics, geometry, meshing, boundary conditions, fluid properties and the solving processes;
A set of results are presented and discussed to facilitate the reader's appreciation that the work has been performed well and to a high standard.
Any Journal is only as good as the papers it publishes, so the Journal needs contributors who see the importance and benefit of having their work published and used by fellow engineers. Engineers are by nature supportive of colleagues, and authoring a case study paper for the Journal gives senior engineers an opportunity to pass on their hard won knowledge and experience, and in some sense "set the standard" of practice in the field. The Journal publishes CFD case study papers, i.e. investigations, simulations and validation exercises in accordance with CFD best practice guidelines. Original papers covering either traditional CFD, multi-phase flows, combustion and topics such as parallel computing, immersed boundary methods, DNS, LES, FSI, LBM, DEM, etc. are welcomed, book reviews and letters to the Editor are also acceptable.
Potential contributors are welcome to contact the editor, Professor Don McGlinchey at cfd.journal@nafems.org to discuss any aspect of the Journal and the process, from authoring to review to publication. Further details are available here.