This Website is not fully compatible with Internet Explorer.
For a more complete and secure browsing experience please consider using
Microsoft Edge
,
Firefox
, or
Chrome
Applications of Simulation Techniques, including Machine Learning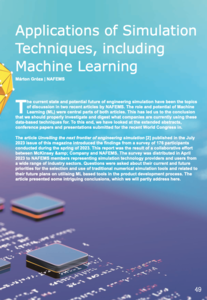 The current state and potential future of engineering simulation have been the topics of discussion in two recent articles by NAFEMS. The role and potential of Machine Learning (ML) were central parts of both articles. This has led us to the conclusion that we should properly investigate and digest what companies are currently using these data-based techniques for. To this end, we have looked at the extended abstracts, conference papers and presentations submitted for the recent World Congress.
The article Unveiling the next frontier of engineering simulation published in the July 2023 issue of this magazine introduced the findings from a survey of 176 participants conducted during the spring of 2023. This report was the result of a collaborative effort between McKinsey & Company and NAFEMS. The survey was distributed in April 2023 to NAFEMS members representing simulation technology providers and users from a wide range of industry sectors. Questions were asked about their current and future priorities for the selection and use of traditional numerical simulation tools and related to their future plans on utilising ML based tools in the product development process. The article presented some intriguing conclusions, which we will partly address here.
This article appeared in the October 2023 issue of BENCHMARK.
Document Details
| | |
| --- | --- |
| Reference | bm_oct_23_6 |
| Author | Gróza. M |
| Language | English |
| Type | Magazine Article |
| Date | 30th October 2023 |
| Organisation | NAFEMS |
| Region | Global |
Download
Back to Previous Page