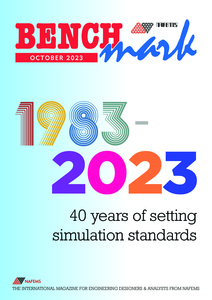 BENCHMARK October 2023
1983 - 2023
4​0 years of setting simulation standards
In the BENCHMARK October 2023 Issue, you will find out about
BENCHED
View From Your Editorial Team
Engineering analysis, modelling, and simulation is an industry (or is it a technology? A set of disciplines? A concept? Am I overthinking?) that always seems to be looking forward. We're constantly about developing, improving things, doing things more efficiently, improving the methods and results. It's a fascinating race towards some unknown destination where future versions of ourselves will know all the answers, have solved all the problems, and look back with, we hope, gentle bemusement at our earlier attempts to embrace technology. And while that seems to make sense and be the direction we're heading in, we know from experience that it won't quite happen like that; life is never that linear.
2023 is NAFEMS' 40th birthday. And to answer a question one of our design team asked me yesterday about this issue, no, I wasn't old enough to be involved in 1983 (thanks, Robbie). The exact date we should be celebrating is up for debate. I know the people who will email me after reading this to let me know when they think it is. Still, it's fair to say that the idea had been brewing for some months, became more "real" in a meeting at London's now redeveloped Café Royal in March 1983, then launched officially in November of that year. So we've chosen this October issue of benchmark to mark the date.
We've put together a bit of a look back at the past 40 years of the organisation for this birthday issue and an interactive timeline you can play with at nafems.org/timeline. Hundreds of volunteers, colleagues and staff have put an immeasurable amount of effort into NAFEMS over the past four decades, and we're grateful to every single one of you. We haven't even attempted to name those involved directly, as we'd likely miss more people than we'd remember, but rest assured that each person involved has a place in the organisation's history.
It's rare for NAFEMS to look back at itself and talk about where it's come from. To be perfectly honest, we avoid doing too much of it, as it's often said that our focus is, and should always be, on the future and how we can take simulation and analysis forward. But sometimes it does everyone good to pause, look back at where they've been, what they've learned, what's gone well, what's gone not so well, and realise that they can use that experience to make what they do in the future even better.
So, as well as a look back, in true NAFEMS style, we haven't taken our eye off the future. This issue features some fascinating articles on virtual corrosion testing, the application of simulation techniques, including machine learning, and game engine physics solvers for simulation. We also look at how one of the world's foremost manufacturers of industrial machinery is supporting the democratisation of simulation tools in their organisation. Monica Schnitger looks forward to the next 40 years of simulation, and we ask how simulation can help prevent crises like the recent UK RAAC problem from reoccurring. This issue is also jam-packed with details on upcoming Conferences – our Regional Conference program for 2024 is really shaping up, as are plans for the annual ASSESS Summit, and we have news on the freshly announced World Congress 2025!
So, join us as NAFEMS settles into its 40's and prepares for the next chapter.
Enjoy this issue of benchmark.
David Quinn - Editor
If you have feedback or would like to see your article featured in benchmark contact benchmark@nafems.org