This Website is not fully compatible with Internet Explorer.
For a more complete and secure browsing experience please consider using
Microsoft Edge
,
Firefox
, or
Chrome
Simulation & Digital Twins - Behind the Buzzwords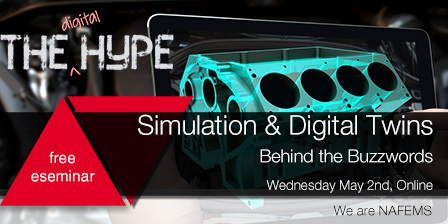 On the 2nd of May 2018 NAFEMS held a unique eSeminar "Simulation & Digital Twins: Behind the Buzzwords", as part of "The (digital) Hype" series, which aims to look beyond the spin and delve deeper into the reality behind some of today's most cutting-edge concepts, and how they really relate to simulation.

The eSeminar brings together the major software vendors in a uniquely neutral platform, to discuss their definitions of Digital Twin, some of the work they are doing in the space, and the barriers standing in the way of full adoption.
The presentation recordings and slides can be accessed via the "Free Download" button.
Document Details
| | |
| --- | --- |
| Reference | S_May_18_Tech |
| Author | NAFEMS |
| Language | English |
| Audiences | Manager Analyst |
| Type | Event Proceedings |
| Date | 2nd May 2018 |
| Organisation | NAFEMS |
| Region | Global |
Download
Back to Search Results