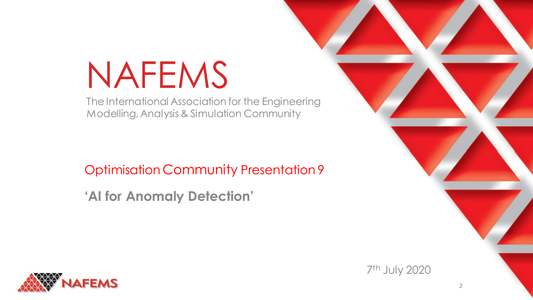 The convergence of mature Artificial Intelligence (AI) algorithms, ubiquitous data and affordable high power computers has led to the proliferation in real-world applications of AI.

One such area is use of AI to detect anomalous scenarios. There are multiple use cases for application of AI based anomaly detection techniques e.g. manufacturing defect detection, manufacturing asset monitoring, cyber security threat detection, medical diagnosis, fraud detection etc. This talk will cover some of the AI techniques used in anomaly detection, elaborate on the methodologies and factors guiding the choice of appropriate AI technique based on the characteristics of the use case.
Optimisation Community
This event was hosted by the NAFEMS Optimisation Working Group (OWG). The OWG has formed an online Community to help disseminate best practice and encourage the adoption of optimisation methods and technology. You can discuss this and other presentations on the Optimisation Community Forum. For more information and to get involved go to the Optimisation Community webpage.