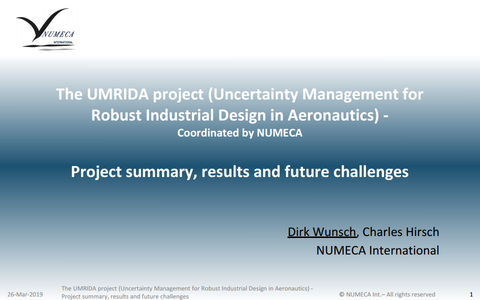 The UMRIDA Project - Uncertainty Management for Robust Industrial Design in Aeronautics - Coordinated by NUMECA
The UMRIDA project was funded under the 7th Framework Programme (FP7) by the European Union and run from 2013 to 2016, coordinated by NUMECA Int. Its main research focus was Uncertainty Quantification (UQ) and Robust Design Optimization (RDO) applied to the industrial design practice by means of high-fidelity virtual prototyping, i.e. full scale 3D Computational Fluid Dynamics (CFD) and Computational Structural Mechanics (CSM), including aero-acoustic and combustion applications. The project successfully helped to bridge the gap from basic research levels to a Technology Readiness Level (TRL) of 5-6, where large numbers of simultaneous (operational, geometrical and manufacturing) uncertainties can be treated in complex industrial analysis and design.
The present talk focused on the findings and best practices collected by the 21 academic and industrial research partners and showcase the main outcomes centred around:
The construction of a novel and unique database of industrial relevant challenges with prescribed uncertainties;
The UMRIDA quantifiable objective: "development and application of UQ methods for large number of uncertainties (>10) within an acceptable CPU return time of 10h on no more than 100 cores parallel processors including multidisciplinary applications";
Application to industrial challenges and hereby increasing the Technology Readiness Level (TRL) from 2-3 at project start to 5-6 at project end.
It was shown that all types of propagation techniques investigated, could be accelerated during the project: Polynomial chaos and collocation methods saw a speed-up by a factor 5 to 18, Monte-Carlo and sampling techniques a speed-up by a factor 5 to 10 and intrusive perturbation techniques a speed-up by a factor of 2.5. This was a major and necessary step towards industrial applicability of UQ methods. A fully integrated industrial software environment was presented, which aims at reducing the user experienced complexity of these methods and allows the analysis and design of complex industrial configurations.
Finally, future challenges identified by the consortium members and taken from the industrial practice were presented.
Optimisation Community
This event was hosted by the NAFEMS Optimisation Working Group (OWG). The OWG has formed an online Community to help disseminate best practice and encourage the adoption of optimisation methods and technology. You can discuss this and other presentations on the Optimisation Community Forum. For more information and to get involved go to the Optimisation Community webpage.