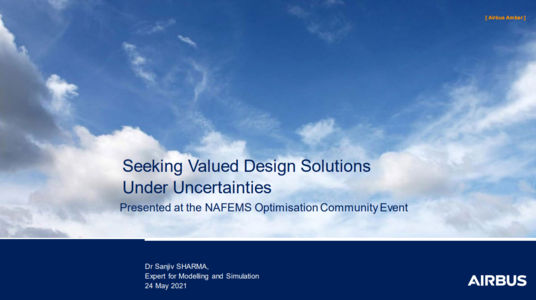 Details
It is well-known that some 80% of product costs are committed through decisions made during the early design phases. it is therefore important that the 80% is targeted towards the valued design solutions. Seeking valued design solutions is particularly important in the context of Set-Based Design (SBD).
Essentially, in SBD one identifies and explores multiple design options simultaneously. The undesirable design options are removed progressively to leave a set of feasible designs. The feasibility being an informal measure of the design assets that are valued by the stakeholders. The SBD approach keeps requirements and design options open, thereby reducing the risk of an early commitment to an inferior design solution.
However, decisions on which designs one deems to be infeasible has to be made under uncertainty; especially when bringing a new product to the market. Quantifying these uncertainties enables an informed decision to shelve infeasible solutions. Whether the product data is obtained through physical or computational experiments, there is a level of uncertainty associated with it. Understanding the effect of these uncertainties would help in seeking valued design solutions.
The Presenter
Dr Sanjiv Sharma is a member of the Airbus Experts Community, with an expertise in Modelling & Simulation. In this role, he leads research relevant to Airbus in his field of applied mathematics; the research projects include industrial supervision of PhD candidates as well as collaborative Post-doctoral partnerships. He has over 30 years' experience in Engineering Design Analysis & Integrated System Engineering Frameworks & Architectures. Sanjiv has led systems engineering work packages on European (FP7) and, more recently, on UK (ATI) collaborative research projects.

He holds BSc in Mechanical Engineering, MSc in Control and Signal processing and a PhD in Applied Mathematics. Sanjiv is a fellow of the Institute of Mathematics and its Applications and an Associate Member of the Institute of Mechanical Engineers.
About this event
This event is being hosted by the NAFEMS Optimisation Working Group (OWG). The OWG has formed an online Community to help disseminate best practice and encourage the adoption of optimisation methods and technology.
For more information and to get involved, please see the Optimisation Community webpage.