What are complex and cyber-physical systems?
How do I numerically evaluate their behaviour?
How can I efficiently model a complex system?
Get the theory and the practical know-how to enable you to develop and improve your complex system numerical modelling activities.
Practical Understanding of Systems Modelling and Simulation
The course is an excellent opportunity to learn the fundamentals and practicalities of the critical aspects of systems modelling:
Complex systems and the method for their development
Simulation-based process and numerical simulation
Organization and process for modelling
Model management and models architecture
Industry applications
Products and services are continually being pushed to their performance limits and are becoming more sophisticated to meet the needs and requirements of customers with ever-increasing expectations. Improving product performance to these levels is only possible through the use of electronics and information technology. All this leads to a significant increase in product complexity, making development and validation more difficult and more expensive.
Adopting a systemic vision makes it possible to develop an approach to understand and manage this complexity.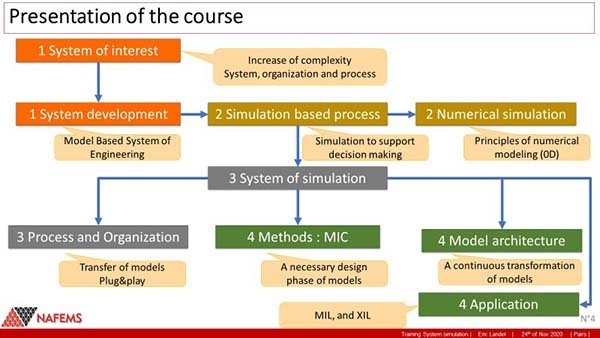 During the development cycle and final validation phases, numerical behaviour simulation provides valuable information to assess performance, ensure that requirements are met, and correct the project definition if performance is insufficient.
Simulations of the main areas of physics-based 3D resolution schemes (FEM, CFD, etc.) are commonly used in projects and allow the behaviour of structures to be represented faithfully. However, they often prove to be unsuitable for restoring the behaviour of controlled systems and mobilizing several physics. This is where simulations of the systems come in, based on a high level of abstraction, eliminating any geometric or dimensional consideration. This is designed as '0D' simulation, to distinguish it from 3D simulation.
The implementation of these system simulations has similarities to that of 3D simulations. But peculiarities and a still lagging maturity often lead to specific difficulties. These difficulties can be bypassed for simple systems but become a substantial obstacle for systems of great complexity. Mainly: architectural issues, model management, model transfers, model identification, traceability, etc.
Methods, tools, and processes are emerging to address these challenges, and their implementation makes it possible to accelerate the availability of complex simulation results in the different contexts of the projects: in the upstream phase for architecture optimizations, in the detailed design phase for optimizing concepts, in the development and calibration phase of systems, and soon, for approvals based on simulation.
Who should attend?
Engineers with first-hand experience of numerical modelling of basic systems. This course is ideal for progressing towards becoming a specialist in modelling complex or cyber-physical systems.
What will you learn?
An understanding of complex systems, and cyber-physical systems.
The principals of system development.
Theoretical and practical understanding of the numerical modelling of systems.
Development and improvement of your understanding of the activities of simulation.
Notion of metamodel and model architecture.
Why an e-learning class?
Travel and training budgets are always tight! The e-Learning course has been developed to help you meet your training needs.
If your company has a group of engineers, or specific training requirements across any subjects, please contact us to discuss options.
Course Program
This is a four-week live web-based eLearning course with a total of 8 hours of tuition (presented as a two-hour session per week). Delegates will be provided with copies of all lecture slides including many self-test problems (with worked solutions).
Session 1
Theory of the complex system and cyber-physical system: how the complexity increases for the system, the organization and the process
System development: Theory of Model-Based System Engineering
Session 2
Simulation-based process: How the simulation can support decision making
Numerical simulation: Theory of numerical modelling (0D)
Session 3
System of simulation: how to organize the simulation as a system or a model factory
Process and organization: a necessary design activity of models
Session 4
Model architecture: a continuous transformation of models
Methods for managing models: Metamodel, transfer of model plug and play
Application: example for XIL (Model -in -the -Loop, Hardware -in -the Loop…)
Feedback from former e-Learning students:
"Super! Doesn't get better than this. Good idea to start having e-Learning courses."

R.P.

"I'm really happy not to pay a big fraction of my annual training budget to airlines and hotels. A BIG plus to e-learning."

V.G.