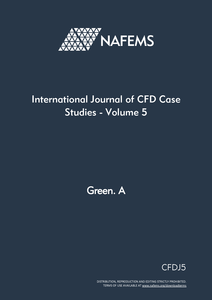 There is a very wide selection of topics demonstrating the increasing applicability of CFD to,industrially relevant, flow analysis. Papers at the large-scale, nuclear reactors and Pelton turbines, and at the small-scale of flow simulation, micro-jet CVD and micro-fluidics, are represented. Papers on Lattice-Boltzmann and turbulence modelling methods are complemented by papers discussing fluid-solid interaction and flow in extrusion processes. It is hoped that the diversity of topics and the approaches used by the authors will be of benefit to readers from the wider NAFEMS community
In my previous Journal editorial I mentioned the goal of encouraging wider participation, especially from overseas members; this edition is the first step to making the Journal truly International. The many International groups within NAFEMS are warmly encouraged to participate by sending their CFD papers forpeer review and publication (details at the end of the Journal).
Introducing this Journal my grateful thanks are due to Dr Moris Habip for his help and assistance in liasing with the authors in Germany.
Contents
Editorial Foreword
Free Surface Jet Flow Interactionwith a Pelton Bucket
F A Muggli and T Wintergerste
Lattice-Boltzmann Methods -Basics and Recent Progress
M Krafczyk and J Tölke
Numerical Simulation of CoolantMixing at the ROCOM TestFacility with CFX-4 and CFX-5 based on Complex Meshes
T Höhne
Turbulence Modelling forTechnical Flows
F R Menter
Simulation of a Plasma Enhancedµ-jet-CVD Process
C Dehning, A Holländer, A-M Leventi-Peetz and KSilmy
CµFD: Simulation of Micro-fluidicSystems
F Schönfeld, K S Drese and SHardt
Numerical Simulation of Coupled Fluid-SolidProblems: Stateof the Art and Applications
M Schäfer
Numerical Analysis of MaterialFlow in Continuously Reinforced Extrusion of Profiles
M Schikorra, M Schomäcker and M Kleiner
Details for Authors