Petr Konas: NAFEMS Eastern Europe Steering Committee Member
Judith Oldal, NAFEMS - August 18th 2021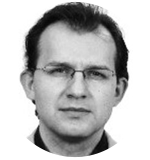 As part of our series on the NAFEMS Eastern Europe Steering Committee members, we would like to introduce you to Petr Konas.
Tell us briefly about yourself
I'm Head of R&D at SVS FEM s.r.o. (ANSYS provider for Czech and Slovak Rep.). I'm responsible for leading and providing development, research and code customization in multi physical tasks for almost all industry fields across all products of ANSYS, Inc. namely Mechanical, CFD, Polyflow, Electronics, Systems, High Performance Computing and Cloud solutions. I'm focused mainly on mathematical and multiphysical modeling of materials and their properties with emphasis on, but not restricted to, biological materials with multiscaled (especially fractal) background and micro-mechanical and nano-scaled products.
When did you first encounter numerical simulation?
It was in 1990 in the excellent book Variational Methods in Mathematics (1974) by Karel Rektorys . It is written by mathematicians in a very comprehensible language for engineers. This book changed my life and opened my eyes to the amazing world of numerical simulations and approximative solutions. I started working in FEA in 1995 which allowed me to shift numerics to a new (mostly more realistic) engineering level. I was really lucky that Brno and Prague in Czechia had a strong position in the theoretical approach of variational methods from a global view and I had the chance to be there at the beginning of many implementations in Czech Rep. (first HPC clusters, new numerical methods, commercial codes, etc.)
When did you first hear about NAFEMS?
It was in 1998/1999 on ANSYS User's Meeting where SVS FEM joined NAFEMS together with CADFEM and presented NAFEMS as an interesting collaborative group for every CAE engineer.
What made you want to be included in the activities of the regional steering committee?
Well, generally it was a taste to be a part of such an interesting group of engineers which are focused on numerical simulations. More precisely, it is a chance to represent interests and requirements of regional members on a little big playground.
What do you see as the future of NAFEMS?
NAFEMS is a professional and social platform where many engineers from different fields can meet and share knowledge, ideas and experiences that can help significantly improve our lives. The organisation offers opportunities for strong cooperation, accelerated learning through training provision and a reliable vision for the future of engineering, I hope this continues well into the future.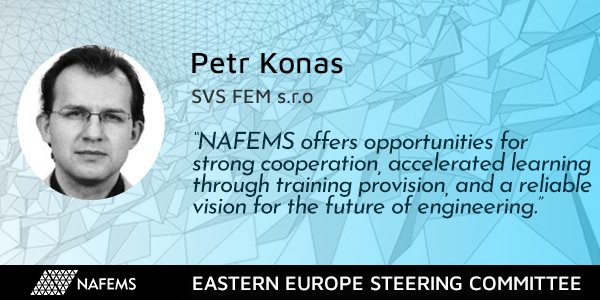 To find out more about the NAFEMS Eastern Europe team activities or to get involved, please get in touch