Recent live NAFEMS on-site classes and other updates
---
March was a hectic month - with three customized training classes in England and Scotland.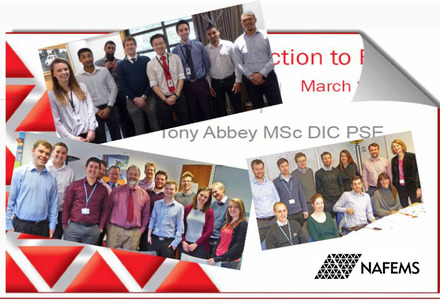 First stop was Atkins Ground Engineering Group in Epsom, with a tailored Dynamics Analysis Course for some of the Geotechnical Engineering Staff..
Next up, Jaguar Land Rover (JLR) in Gaydon, where Tony taught the final Introduction to FEA for the 2014/15 intake. This is a highly customized course focused on Finite Element Analysis within JLR's Virtual Engineering vision for the future.
The 2015/16 series of courses is already being redesigned to provide more interactive and distance learning material.
The final stop was in Edinburgh where last year's successful Introduction to Finite Element Analysis for Oil and Gas disciplines was repeated for Atkins Energy.
On Linkedin I also posted comments on 2 articles :
One article from Cyrien named "Break FEA Myths: Would you use a Scientific calculator with 3 buttons?"I thought it was a very amusing example from Cyprien of how far an FEA 'product' could go in making the analysis process simple to the point of absurdity. However it does highlight in my mind the reverse problem. Many designers and casual users of FEA I meet on my training classes don't pay much attention to mesh control because it is so damn hard to do it effectively in 3D meshing! So we get poor meshes....

Would anyone be interested in a 'round robin' of geometry benchmarks where the emphasis is on accurate answers AND ease of 3D mesh control?
One that I wrote for DE magasine entitled "How to Set Realistic Boundary Conditions for FEA". I pointed out that one of the most difficult aspects of setting up an FEA (finite element analysis) model to simulate the real world is applying realistic boundary conditions. This means understanding how the structure is loaded by external forces and how it is constrained from moving globally in space. Sometimes the distinction between whether a structure should be fixed to the ground or loaded externally can become a little blurred. It is up to the analyst to decide how to deal with this. Have a look for yourself and read the article!

All in all a very successful month with some very satisfied customers!
If you would like to see your staff getting the same professional training across a wide variety of Structural or CFD disciplines, email training@nafems.org or check out the NAFEMS Training section.
If you would like to join the debate, join us on the NAFEMS group on linkedin
Until next time,
Regards,
Tony